Top 8 Benefits of the R&D Tax Credit
08/05/2020
Read More

IRS Debunks Tax Refund Myths
07/23/2020
Read More

Introducing KBKG's New Video Series: R&D Tax Credit Audit Defense with Jack Jolly and Mark Bodenstab
07/20/2020
Read More

KBKG Tax Insight: Senate Finance Committee Discusses Potential for New Coronavirus Bill that Would Allow Accelerated Federal Tax Breaks
06/23/2020
Read More

KBKG Tax Insight: Which IRS Division is Conducting Your R&D Credit Exam? The Answer is Crucial
06/01/2020
Read More

KBKG Tax Insight: New and Improved Changes to Research and Development (R&D) Tax Credit: Furthering the American Recovery from the Coronavirus
05/06/2020
Read More

KBKG Tax Insight: R&D Studies Can Make Audits Easier and the Credits More Sustainable
04/28/2020
Read More

Changes and Extension of the Virginia R&D Tax Credit
04/14/2020
Read More

KBKG Tax Insight: Cash is Still King – R&D Credit Provides Businesses Much Needed Cashflow
04/13/2020
Read More

KBKG Tax Insight: Architectural Firms Can and Do Qualify for the Research and Development Tax Credit
02/26/2020
Read More

KBKG Tax Insight: Words Matter When Describing R&D Credit Activities
01/08/2020
Read More

Regional Director Todd French Joins KBKG's Midwest Office
11/07/2019
Read More

[PRESS RELEASE] Jonathan Tucker Joins KBKG as Director of Research & Development Tax Credits
08/29/2019
Read More

R&D Director Paul McVoy Relocates to KBKG's New York Office
08/19/2019
Read More

[INTERVIEW] Mark Bodenstab, Director of Research & Development Tax Credits
08/12/2019
Read More

[PRESS RELEASE] Former IRS Executive, Mark Bodenstab, Joins KBKG as Director of Research & Development Tax Credits
07/30/2019
Read More

There's Still Time to Claim the R&D Tax Credit on Extension [Infographic]
06/18/2019
Read More

Have a Fat Tax Bill? Have You Thought About the R&D Tax Credit?
04/19/2019
Read More

Myth – Claiming R&D Tax Credit Increases the Likelihood of an IRS Audit
04/08/2019
Read More

KBKG Tax Insight: R&D Tax Credits - Protective 280C(c)(3) Elections
02/07/2019
Read More

Own a Start-up or Small Business? You May Qualify for Federal Research Credits.
01/08/2019
Read More

KBKG Tax Insight: Now Permanent, R&D Tax Credit Offers Unique Opportunity for Manufacturers
10/01/2018
Read More

KBKG Tax Insight: R&D Tax Credit – Qualified Research Expenses for Software Development Activities
09/17/2018
Read More

KBKG Tax Insight: Major PATH Act1 Changes to the R&D Tax Credit
08/27/2018
Read More

An Interesting Thread To Pull; The South Carolina R&D Tax Credit
08/20/2018
Read More

After 20+ Years at the IRS Reviewing Corporate Tax Incentives, Jack Jolly Joins KBKG as R&D Director
08/13/2018
Read More

KBKG Tax Insight: R&D Tax Credits for Software Development Advancements in 2018 & Beyond
08/03/2018
Read More

KBKG Tax Insight: R&D Credit Opportunity – Improving an Existing Product
06/11/2018
Read More

KBKG Tax Insight: Avoid Common R&D Expense Documentation Errors
01/14/2018
Read More

KBKG Tax Insight: Tax Reform & The R&D Tax Credit
12/21/2017
Read More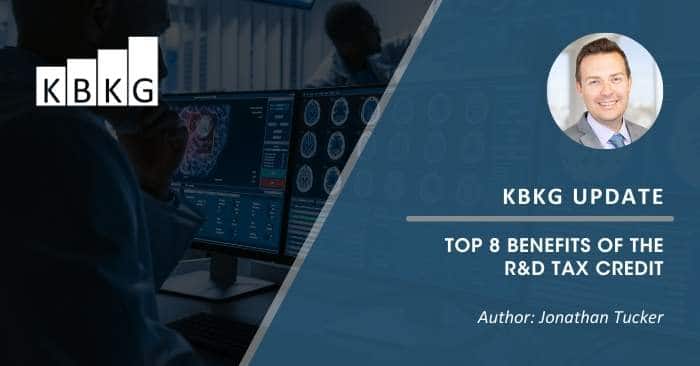 The research and development tax credit is one of the most valuable credits leveraged by innovators and entrepreneurs since its inception in 1981. While the credit has been around for almost 40 years, renewed focus on research and development has created opportunities for even more businesses to take advantage. Curious to know more? Here are … Read More