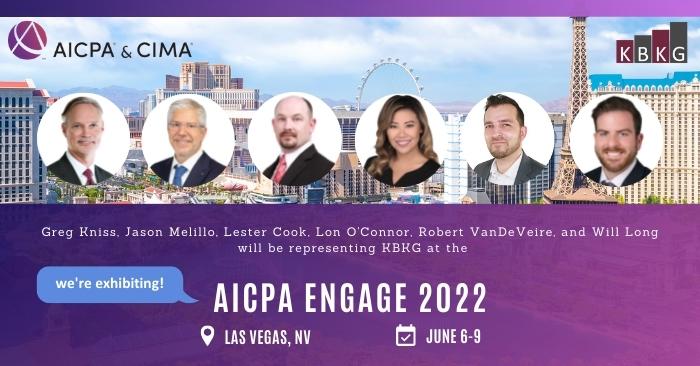 We are exhibiting at this year's AICPA Engage Conference that is taking place at the ARIA Resort & Casino in Las Vegas from Monday, June 6th to Thursday, June 9th. Representing KBKG are Greg Kniss, Jason Melillo, Lester Cook, Lon O'Connor, Robert VanDeVeire, and Will Long. We will be located at booth #307, please feel free to visit us.
About the AICPA Engage 2022 Conference
At AICPA Engage 2022, they know the pace of change accelerated significantly in the last two years and it isn't slowing down. Depending on your mindset, skill set and resources, this can either be a challenge or an opportunity. No other event comes close to our breadth or depth of specialized content or our exhibit hall filled with relevant tools and resources. You'll gain exclusive insights, develop practical skills, and network with your unique professional community over 4 energizing days. With seven tracks designed to empower you and your organization with innovative strategies and best practice solutions, there no better event for your team to learn together.
This is the accounting and finance industry's premier event of the year. We're entering an exciting new era, and with the right outlook and tools you're sure to flourish. At ENGAGE 22 you will have access to curated content developed by experts and focused on current, necessary information and updates.
About the KBKG Team
At KBKG, we are passionate about helping business owners and accounting professionals across the United States. Our value-added tax services include Cost Segregation, Research & Development Credits, Green Building Tax Incentives (179D & 45L), Transfer Pricing, IC-DISC, and more.
Questions about tax-saving strategies? Contact us today for a free benefit estimate. We're happy to help.