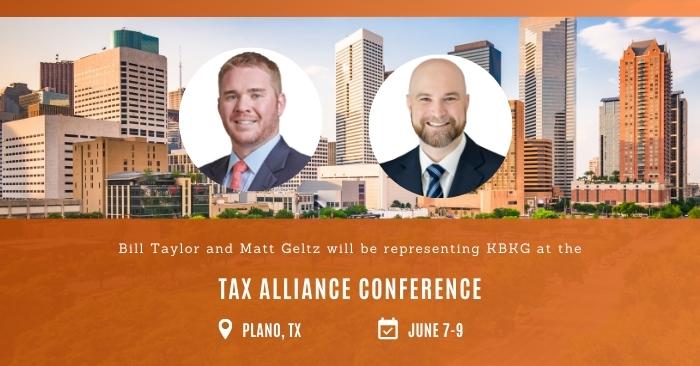 Our Regional Director, Bill Taylor is speaking about Employee Retention Tax Credits & Impact on Research and Development Tax Credits, CCM, and TX Law Changes at the Tax Alliance Conference on June 7th. Joining him is our Regional Director, Matthew Geltz, and he is representing KBKG at the exhibition hall. The Tax Alliance Conference is taking place from June 7th to June 9th at the Plano Event Center in Texas.
About the Tax Alliance Conference
The Tax Alliance Conference's mission is to provide intermediate to advanced continuing education to tax professionals presented in the Dallas, Texas area at an affordable cost. They are a non-profit, volunteer organization offering practical tax training to enrolled agents, CPAs and attorneys from both the private sector as well as the Internal Revenue Service. The seminars encourage an exchange of ideas as well as networking opportunities for the attendees.
This year's event is scheduled for June 7, 2022 – Bootcamp, 2:00 – 5:30 PM. Followed by a Wine & Cheese Reception and June 8 & 9, 2022, 8:00 AM – 6:00 PM CDT.
About KBKG's Texas Team
At KBKG, we are passionate about helping business owners and accounting professionals across the Texas region. Our value-added tax services include Cost Segregation, Research & Development Credits, Green Building Tax Incentives (179D & 45L), Transfer Pricing, IC-DISC, and more.
Questions about tax-saving strategies? Contact us today for a free benefit estimate. We're happy to help.