What is the Research and Development Tax Credit?
The R&D Tax Credit, first enacted in 1981, has been one of the most valuable credits leveraged by companies. Every year, the R&D credit yields billions of dollars in federal and state benefits to companies engaged in qualifying research. Thousands of companies take advantage of the credit across several industries. Some of the common industries that qualify for the R&D tax credit include, but are not limited to:
Estimate Your Benefits Instantly
Use our calculators for an estimate of state and federal R&D tax credit benefits or to determine if you can offset payroll tax using the R&D tax credit. It's easy to use and free. If at any time you have questions, contact us. We are here to help you realize your maximum tax benefit.
What are the Potential Benefits of the R&D Tax Credit?
There are several benefits to realizing the R&D tax credit.
These benefits can include the following:
Up to 13.5 cents of R&D tax credit for every qualified dollar
Dollar-for-dollar reduction in your federal and state income tax liability
Increased in earnings-per-share
Reduction of your effective tax rate
Improved cash flow
Credit carried forward up to 20 years
Recent regulatory developments make claiming the R&D tax credit for companies much more feasible
Look back studies can recognize unclaimed credits for open tax years
(generally 3 or 4 years)
Four-Part Test
Qualified research activities are defined by the four-part test outlined below
Research and Development Tax Insights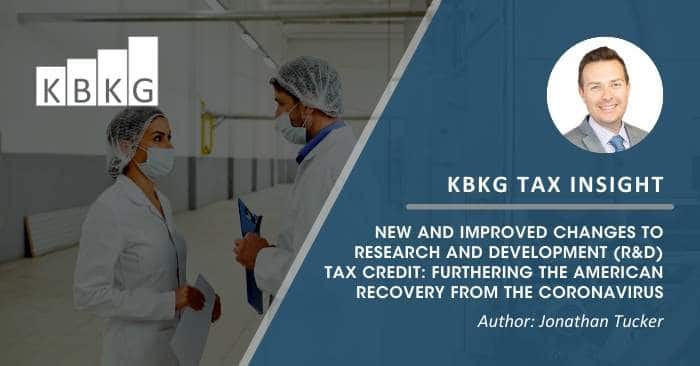 Senator Chris Coons of Delaware recently introduced legislation (S. 3593) called "Furthering Our Recovery With American Research & Development Act" ("FORWARD"), which makes changes to and expands Internal Revenue Code Section 41: Credit for Increasing Research Activities ("IRC 41"). Applying these modifications to the existing law could allow companies that invest in the research and … Read More
Have Questions? We're here to help.
Our team of experts are well-versed in their respective fields and are able to answer most any question.