Find Out if You Qualify
for the R&D Tax Credit
Ready to get started? Find out if you qualify by filling out the form
below and one of our R&D Tax Credit experts will contact you.
REQUEST A PROPOSAL

REQUEST A PROPOSAL
HUNDREDS OF MILLIONS
IN R&D TAX CREDITS CLAIMED
What is the Research and Development (R&D) Tax Credit?
The R&D Tax Credit (26 U.S. Code §41), also known as the Research and Experimentation (R&E) tax credit, is a federal benefit that provides companies dollar-for-dollar cash savings for performing activities related to the development, design, or improvement of products, processes, formulas, or software. This credit provides much needed cash to hire additional employees, increase R&D, expand facilities, and more. The credit was enacted in 1981 to stimulate innovation and encourage investment in development in the US. Since then, many states have also passed the R&D Tax Credit. As such, this benefit is available across a wide variety of industries. Some of the common industries that qualify include, but are not limited to:
Estimate Your Benefits Instantly
Use our calculators for an estimate of state and federal benefits or to determine if you can offset payroll tax using the R&D tax credit. It's easy to use and free. If at any time you have questions, contact us. We are here to help you realize your maximum tax benefit.
What are the Potential Benefits of the R&D Tax Credit?
There are several benefits to realizing the R&D tax credit. These benefits can include the following:
Receive up to 12-16 cents of federal and state R&D tax credits for every qualified dollar
Create a dollar-for-dollar reduction in your federal and state income tax liability
Increase earnings-per-share
Reduce your effective tax rate
Improve cash flow
Carry forward the credit up to 20 years
Perform look back studies to recognize unclaimed credits for open tax years (generally 3 or 4 years)
Utilize the federal R&D tax credit against payroll tax (applicable to certain startup companies)
Four-Part Test
Qualified research activities are defined by the four-part test outlined below
Research and Development Tax Insights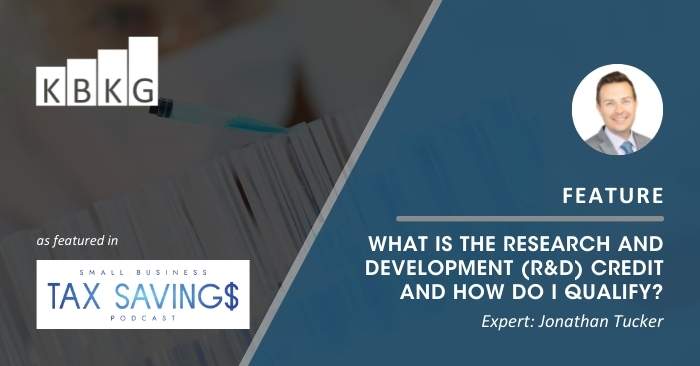 As featured in the Small Business Tax Savings Podcast Mike Jesowshek, CPA, Founder of JETRO & Associates, interviewed our Research and Development Tax Credits Principal, Jonathan Tucker. Topics discussed include the fundamentals of the Research and Development (R&D) Tax Credit, R&D tax credit benefits the four-part test, qualifying activities, qualifying expenditures, and more. Each year … Read More
Have Questions? We're here to help.
Our team of experts are well-versed in their respective fields and are able to answer most any question.