REQUEST A PROPOSAL
Find Out if You Qualify
for the R&D Tax Credit
Ready to get started? Find out if you qualify by filling out the form
below and one of our R&D Tax Credit experts will contact you.
Find Out if You
Qualify for the
R&D Tax Credit
CASE STUDY
DEVELOPER OF Aerospace PRODUCTS AND PROCESSES
Annual Revenue: $30 Million
RESULTS:
$1,000,000
In Federal & State R&D Tax Credits
DEVELOPER OF Aerospace
PRODUCTS AND PROCESSES
R&D Tax Credits for the Aerospace Industry
Refunds are available for companies performing research within the Aerospace Industry. The research credit provides dollar-for-dollar cash savings each year for companies performing activities related to the development of new or improved products and processes. These benefits could provide much needed cash to hire additional employees, increase R&D, expand production facilities, etc.
Many companies involved with aerospace are unaware that their efforts within designing and developing their products can yield a large amount of research credits. Examples of R&D activities related to the industry as well as potentially qualifying job titles are listed below.
Examples of Qualifying R&D Activities
Computer-aided design (CAD), modeling, and finite element analysis (FEA) simulation of aerospace products
Designing and testing of prototypes of aerospace products
Designing of new concepts of aerospace products to increase performance and reliability
Optimizing manufacturing processes for aerospace products
Testing aerospace components to meet regulatory standards and safety requirements
Potentially Qualifying R&D Job Titles
Aerospace Engineer
CAD Designer
Chemical Engineer
Electrical Engineer
Engineering Manager
Engineering Director
Mechanical Engineer
Project Manager
Systems Engineer
Software Engineer
Structural Engineer
AMT Offset
For tax years beginning after December 31, 2015, eligible small businesses (those with $50 million or less of gross receipts) may claim the research credit against AMT liability. ​​​​​​​
Up to $250,000 in Payroll Tax
Qualified start-up companies may elect to use up to $250,000 of the research credit against payroll taxes. Treasury Regulations have substantially broadened the range of taxpayers who are eligible for the credit. Start-ups to publicly traded businesses who were previously unable to realize a benefit from this lucrative tax credit should reassess their eligibility.
Estimate Your Benefits with our FREE Calculators
Use our calculators for an estimate of state and federal R&D tax credit benefits or to determine if you can offset payroll tax using the R&D tax credit. It's easy to use and free. If at any time you have questions, contact us. We are here to help you realize your maximum tax benefit.
Get a Free Download of this Research & Development One Pager
Research and Development Tax Credit Insights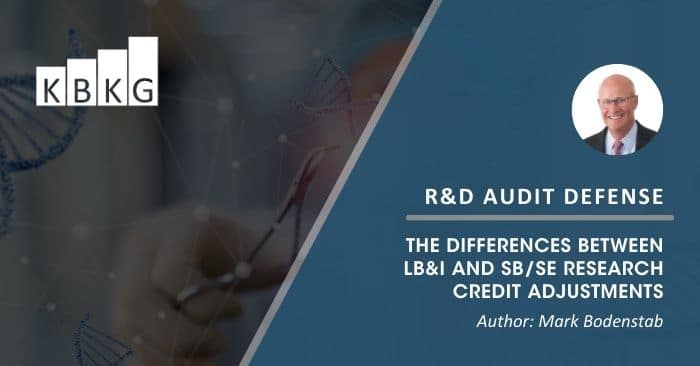 Let's assume a scenario where you filed for the credit for increasing research ("R&D credit") and the Internal Revenue Service ("IRS") selected your return for examination/audit. At the conclusion of the audit, the IRS has two basic options: a "no change" or a "disallowance." As much as everyone would like to receive a "no change," … Read More
Have Questions? We're here to help.
Our team of experts are well-versed in their respective fields and are able to answer most any question.