DIY Cost Segregation Software for Smaller Residential Properties
The Residential Cost Segregator® is an online software program that allows CPA's to generate custom reports in just minutes,
providing tax benefits to clients without hiring a specialist. The software is available for residential rental properties up to
6 units with a depreciable tax basis of $1,200,000 or less (purchase price less land).
Preview Your Tax Savings with KBKG's Residential Cost Segregator® Calculator
Try before you buy. Use our free preview calculator below to instantly estimate the benefits of the Residential Cost Segregator®.
*The cost of a report does not include your tax preparer's fees to assist with information gathering, reviewing data, and implementation on your tax return. Please consult your tax advisor regarding additional fees.
Frequently Asked Questions
What's the difference between a formal Cost Segregation study performed by experienced engineers and a Residential Cost Segregator® report?
For most buildings, a Cost Segregation study requires the knowledge of a Certified Cost Segregation Professional (CCSP) with an engineering background. This is because of variations in construction from one building to another as well as varied tax law depending on building types. The engineer physically inspects the property and performs construction quantity takeoffs to account for each building component. Empirical cost data is then used to reconstruct the cost of the entire property. The result is a report with schedules showing values that can be substantiated by the data collected by the engineer.
The Residential Cost Segregator® utilizes many of the same concepts, calculations, and data. Instead of an engineer, the Residential Cost Segregator® relies on data provided by the building owner. So if the building owner indicates the property has carpet in the bedrooms and was acquired with certain appliances, the software accounts for these items. The information provided is processed using KBKG's proprietary algorithms and empirical data to generate a logical breakdown of costs for each major property component.
The Residential Cost Segregator® is designed specifically for properties too small to hire an experienced CCSP to analyze. Because every property is unique, it may not account for unusual items that exist and generally provides a more conservative allocation than may be available to the taxpayer. The Residential Cost Segregator® is not adequate for use to conduct a Cost Segregation study on larger, more complex properties.
What is Cost Segregation and why should I do it for my rental property?
Cost Segregation is a commonly used strategic tax planning tool that allows building owners who have constructed, purchased, expanded or remodeled real estate to increase cash flow by accelerating depreciation deductions and deferring federal and state income taxes.
A Cost Segregation report for residential investment property dissects the purchase price of the property that would otherwise be depreciated over 27.5 years for income tax purposes.
Accelerate Depreciation Deductions: The primary goal of Cost Segregation is to identify all property-related costs that can be depreciated faster (typically over 5, 7 and 15 years).
Retirement and Partial Disposition Deductions: The secondary goal of Cost Segregation is to establish the depreciable tax value for each major building component that is likely to be replaced in the future. Examples include roof, windows, doors, bathroom fixtures, HVAC, etc. When a component is replaced, taxpayers need this information to claim a "retirement loss" or "partial disposition" deduction for its remaining depreciation.
Case Study
---
Property Details:
2 Story Residential Duplex
Depreciable basis = $300,000
Placed in Service two years ago
Building Area: 2,000 SF
Lot Size: 4,000 SF
Immediate benefits from reclassification to shorter tax lives:
Additional deductions of $21,000 in the first year
Additional deductions of $28,000 in the first 5 years
Net present value of $7,500*
*Using a tax rate of 40% and 8% ROI. Does not include benefits from a future partial disposition of building components.
Free Webinar for CPAs
---
Cost Segregation Software Tools & Tax Strategies
Participate in a live demo for cost segregation software tools including the Residential Cost Segregator™ and the KBKG Partial Disposition Calculator.
Learn how to generate cost segregation reports in 3 easy steps for residential rental properties with a purchase price of $600k or less (excluding land).
Cost Segregation Tax Insights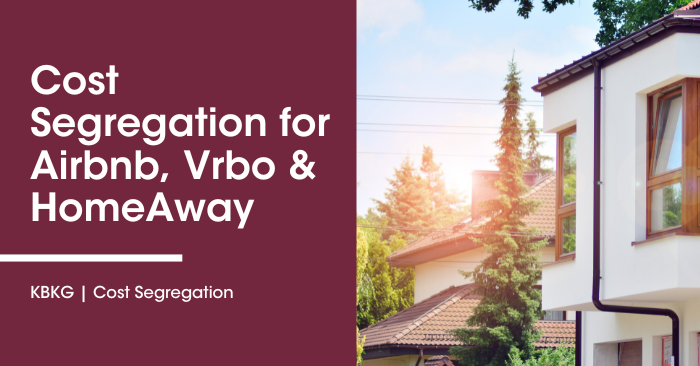 Cost Segregation for Airbnb, Vrbo, HomeAway If you're an Airbnb, Vrbo, or HomeAway host, you're likely familiar with the complexities of managing and optimizing rental properties. What you may not be aware of, however, is a powerful financial tool that can help you maximize your property's financial benefits while minimizing your tax liability – Residential … Read More
"I used the Residential Cost Segregator® software right after it came out in September of 2016 for a client that had multiple single family rental properties. The cost seg report savings on the properties were tremendous.  The client was very happy and I was able to charge a lot more for the tax return."

-- Jeff Robertson CPA, Klein, Bogakos and Robertson, CPAs Inc
Use our free preview calculator