179D Tax Deduction
The Energy-Efficient Commercial Buildings Tax Deduction, originally made effective on 1/1/2006, is a significant financial incentive geared towards:
• Building owners (commercial or multifamily)
• Tenants making improvements
• Architects, engineers, and other designers of government buildings
To qualify, newly constructed buildings along with improvements to existing buildings must meet or exceed certain energy reduction requirements. Recent tax legislation extended the Energy Efficient Commercial Buildings Deduction, offering a tax deduction of up to $1.80/sf to those investing in energy efficient improvements placed in service after December 31, 2005.
179D Benefits
Size of Improvement


Partial Tax Deductions For...

Full Tax Deduction

Lighting

HVAC

Envelope

50,000 sf

$15K - $30K

$30K

$30K

$90K

100,000 sf

$30K - $60K

$60K

$60K

$180K

300,000 sf

$90K - $180K

$180K

$180K

$540K
Are You an Ideal Candidate?
Unlike most deductions, which are based on the amount spent, this deduction is primarily based on affected square footages. Ideal candidates will generally have improvements with a square footage of at least 50,000 square feet. A wide range of improvements, from simple lighting retrofits to full-scale construction projects, qualify for this timely tax break. Other great candidates include regional or national chains with multiple locations.
The Process
The basis for developing and supporting this deduction is a detailed engineering analysis, as prescribed by the IRS. Our multi-disciplinary team of engineers and tax experts will ensure that you obtain the maximum available deductions while following IRS guidance to properly certify the tax deductions. Additionally, our team can help you claim deductions that were missed from prior years.
Eligible Improvements
Taxpayers that invest in ground-up construction or in improvements to their existing buildings are potentially eligible for 179D deductions. Eligible improvements must reduce energy use by making investments in any of the following categories: a building's envelope, HVAC, and/or interior lighting systems. There are different ways to pursue a deduction and all require comparison to the ASHRAE Standards and certification by a qualified individual.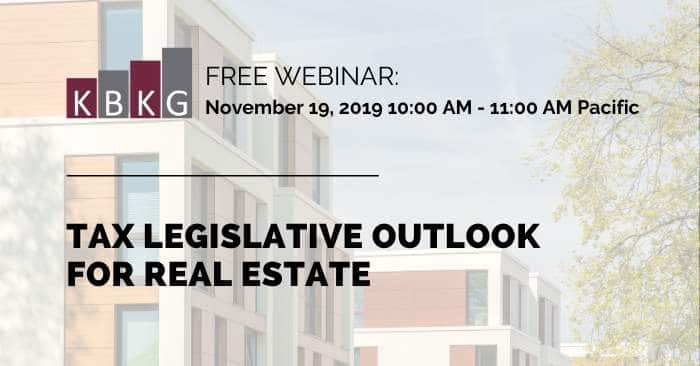 Our technical team at KBKG has been working with those in DC who endeavor to bring more certainty to the real estate industry. Tax extenders and technical corrections to tax reform such as the "retail glitch," still need to be addressed, but there has been movement. As Congress continues negotiations on appropriations, a stage has … Read More
Have Questions? We're here to help.
Our team of experts are well-versed in their respective fields and are able to answer most any question.