R&D Tax Credits for the Life Sciences Industry
Refunds are available for companies performing research within the Life Sciences Industry. The research credit provides dollar-for-dollar cash savings each year for companies performing activities related to the development of new or improved products and processes. These benefits could provide much needed cash to hire additional employees, increase R&D, expand production facilities, etc.
Many companies involved with the life sciences are unaware that their efforts within designing and developing their products can yield a large amount of research credits. Examples of R&D activities related to the industry as well as potentially qualifying job titles are listed below.
Examples of Qualifying R&D Activities
Automation of internal processes by developing and implementing new hardware and software systems
Design and manufacturing of prototype medical devices, drug delivery systems, or pharmaceutical packaging apparatuses
Development and testing of new pharmaceuticals, therapies, biologics, or other medical compounds
Improving existing products to increase shelf life, reduce side effects, or prolonged duration of therapeutic activity
Production of clinical trial lots and initial scale-up of manufacturing processes
Support of direct research activities, such as quality testing, maintaining lab equipment, data collection, and regulatory compliance work
Potentially Qualifying R&D Job Titles
Analytical Chemist
Analytical Scientist
Control System Lead
Drug Product Engineer
Good Manufacturing Practices (GMP) Analyst
Lab Manager
Lab Technician
Mechanical Engineer
Process Engineer
Process Integration Manager
Quality Assurance/Control (QA/QC) Specialist, Manager, or Director
Research Associate, Research Scientist
Validation Engineer
Orphan Drug Tax Credit
Companies that have qualifying activities for the ODC may also qualify for the R&D Tax credit, but both credits cannot be claimed for the same expense. Typically, the ODC often provides a more lucrative benefit than the R&D Tax Credit. Yet, companies often fail to fully maximize the ODC that they are otherwise eligible to claim due to a lack of knowledge, expertise and/or resources. » Learn More
AMT Offset
For tax years beginning after December 31, 2015, eligible small businesses (those with $50 million or less of gross receipts) may claim the research credit against AMT liability. ​​​​​​​
Up to $250,000 in Payroll Tax
Qualified start-up companies may elect to use up to $250,000 of the research credit against payroll taxes. Treasury Regulations have substantially broadened the range of taxpayers who are eligible for the credit. Start-ups to publicly traded businesses who were previously unable to realize a benefit from this lucrative tax credit should reassess their eligibility.
Estimate Your Benefits with our FREE Calculators
Use our calculators for an estimate of state and federal R&D tax credit benefits or to determine if you can offset payroll tax using the R&D tax credit. It's easy to use and free. If at any time you have questions, contact us. We are here to help you realize your maximum tax benefit.
Get a Free Download of this Research & Development One Pager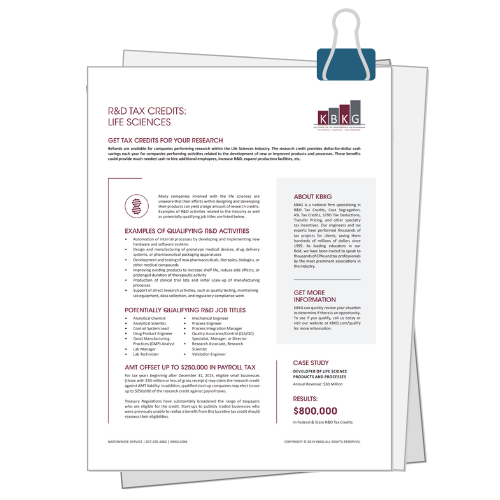 Research and Development Tax Credit Insights
Kansas Issues New Notice to the Research and Development Tax Credits Thought Leadership by Jonathan Tucker, Principal – Research and Development Tax Credit Services As certified public accountants, staying abreast of changes in tax laws and regulations is crucial to best serve your clients. In this blog, we'll dive into the recent amendments by House Bill … Read More
Have Questions? We're here to help.
Our team of experts are well-versed in their respective fields and are able to answer most any question.