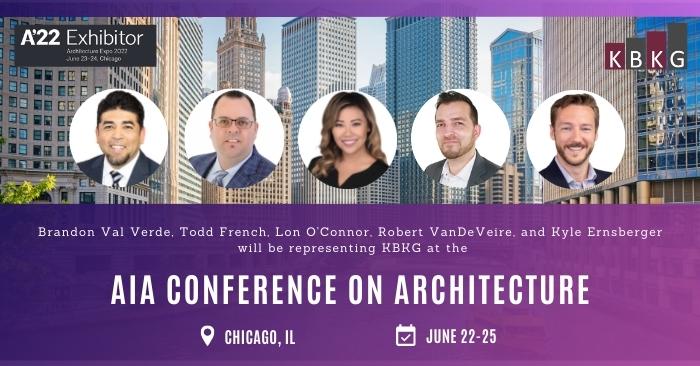 This year Todd French, Lon O'Connor, Robert VanDeVeire, Brandon Val Verde, and Kyle Ernsberger will be representing KBKG at the AIA Architecture Conference. The conference takes place from June 22nd to June 25th in Chicago, Illinois.
About the AIA Architecture Conference
The AIA Architecture Conference is the architecture and design event of the year. With the city as the backdrop, everyone will be able to explore architecture's ability to drive new thinking in one of the most design-forward, sustainable cities in the U.S.
The designed world is getting more complex. This conference delivers the path forward. Acclaimed architects, designers, and building product manufacturers deliver best-in-class CE.
AIA is turning McCormick Place into a 166,000 sq. ft. product playground that reflects Chicago's iconic cityscape. Experience, touch, see, and get technical specs for the newest high-tech materials and solutions to hit the market from 500 of the industry's best building product manufacturers.
About the KBKG Team
Established in 1999 with offices across the US, KBKG provides turn-key tax solutions to CPAs and businesses. By focusing exclusively on value-added tax services that complement your traditional tax and accounting team, we always deliver quantifiable benefits to clients. Our firm provides access to our knowledge base and experienced industry leaders. We help determine which tax programs benefit clients and stay committed to handling each relationship with care and diligence. Our ability to work seamlessly with your team is the reason so many tax professionals and businesses across the nation trust KBKG.
Questions about tax-saving strategies? Contact us today for a free benefit estimate. We're happy to help.