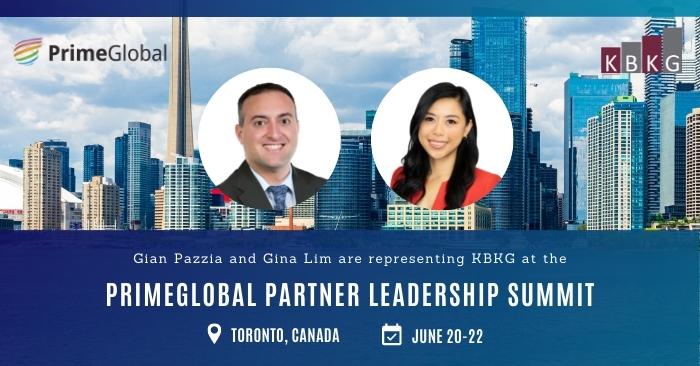 Our CEO, Gian Pazzia is attending the PrimeGlobal Partner Leadership Summit as a delegate. Along with him, our National Director of Business Development, Gina Lim, is sponsoring the event on behalf of KBKG. The conference is taking place from June 20th to June 22nd at the Fairmont Royal York in Toronto, Canada.
About PrimeGlobal Partner Leadership Summit
The PrimeGlobal Partner Leadership Summit is a "Brave New World" and never has the profession experienced such dramatic change, challenges, and opportunity. Make plans to attend the Partner Leadership Summit, a Talent Development Insights event and experience thought leadership and networking at its best in the quintessential city of Toronto. Continue the tradition of high-level, provocative, discussions on relevant topics in the accounting profession and unpack the annual benchmarking survey, highlighting the best practices of colleagues and industry leaders.
If you have any questions or want to find out more about our global events, please contact Maureen Dillmore. Find out about the 2021 Virtual Partner Leadership Conference HERE. Follow the event on social media with #PGPLS.
PrimeGlobal offers member firms a wide range of exciting and engaging events all year round. From local regional meetings and personal training webinars to international conferences, PrimeGlobal events give member firms the opportunities to meet, discuss and learn about the accounting industry on a truly global scale.
About the KBKG Team
Established in 1999 with offices across the US, KBKG provides turn-key tax solutions to CPAs and businesses. By focusing exclusively on value-added tax services that complement your traditional tax and accounting team, we always deliver quantifiable benefits to clients. Our firm provides access to our knowledge base and experienced industry leaders. We help determine which tax programs benefit clients and stay committed to handling each relationship with care and diligence. Our ability to work seamlessly with your team is the reason so many tax professionals and businesses across the nation trust KBKG.
Questions about tax-saving strategies? Contact us today for a free benefit estimate. We're happy to help.