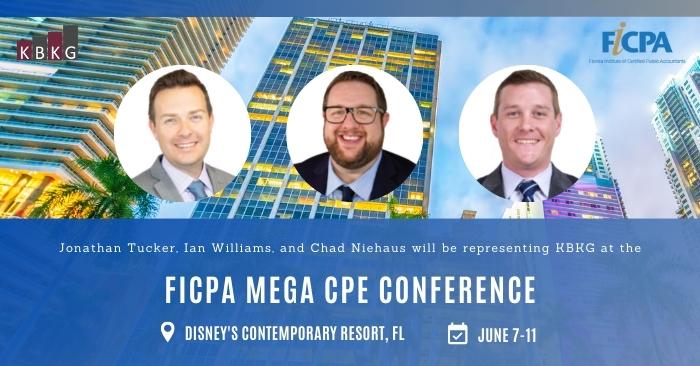 Research & Development Tax Credit Principal, Jonathan Tucker and Director, Ian Williams will be speaking on Research and Development Tax Credits Overview and Recent Updates. Their presentation is taking place on Thursday, June 9th from 10:30 AM – 11:20 AM. Regional Director, Chad Niehaus is speaking in a 25-minute Ted-Talk, a new way of presenting at MEGA. The conference takes place from Tuesday, June 7th to Thursday, June 9th at Disney's Contemporary Resort in Florida.
About the FICPA MEGA CPE Conference
The past two years have brought upheaval to the nation and to the CPA profession. We've faced a myriad of challenges – remote working, increased cybersecurity threats, new bills and regulations, clients worried about their financial futures – to name just a few. Like never before, your mindset, skills and ability to pivot are crucial to your success in serving your clients.
MEGA 2022 is designed with you, and your needs, in mind. More topics, more sessions, more networking and social activities. NEW to MEGA – 4 hours of complimentary CPE from solution experts in a Ted-Talk format. Welcome, vendor and chair's receptions entice you to unwind after a full day of cutting-edge CPE. Come celebrate with us at our NEW family-friendly closing celebration! Meet. Engage. Grow. Achieve. What better way than at MEGA and Disney!
About KBKG's Southeast Team
At KBKG, we are passionate about helping business owners and accounting professionals across the Southeast region. Our value-added tax services include Cost Segregation, Research & Development Credits, Green Building Tax Incentives (179D & 45L), Transfer Pricing, IC-DISC, and more.
Questions about tax-saving strategies? Contact us today for a free benefit estimate. We're happy to help.