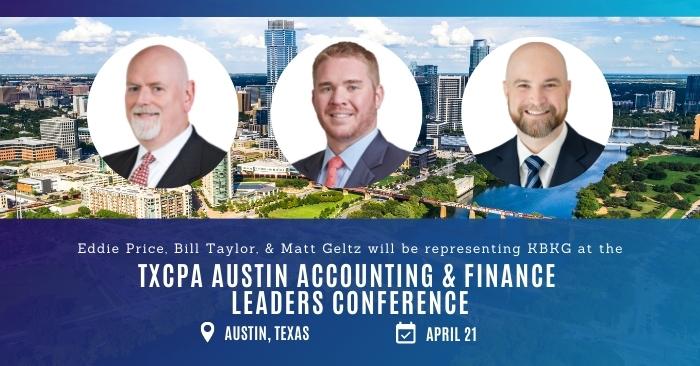 Eddie Price, Matthew Geltz, and Bill Taylor will be representing KBKG at the TXCPA Austin Accounting & Finance Leaders Conference on Thursday, April 21st in Austin, Texas. Our Texas team specializes in Cost Segregation, Green Building Tax Incentives (45L and 179D), Transfer Pricing, and more..
About the TXCPA Austin Accounting & Finance Leaders Conference
The TXCPA Austin Accounting & Finance Leaders Conference, formerly the CFO/Controllers Conference, is an exciting event attracting financial decision-makers (CPAs and non-CPAs) from a broad range of companies and organizations throughout Texas. The conference is organized to cover the hottest topics in fast-paced, interactive sessions, and it is one of the most highly rated events by attendees every year.
This year's event is scheduled for Thursday, April 21, 2022, 8:30 am at the AT&T Conference Center.
About KBKG's Texas Team
Our Dallas Fort Worth-based KBKG engineers and tax experts have performed thousands of tax projects resulting in hundreds of millions of dollars in benefits for our clients.
Eddie Price
Principal – Cost Segregation
Texas
Eddie is a Principal with KBKG and oversees the Southern region and its Texas-based operations. He is a Certified Cost Segregation Professional (CCSP) with the American Society of Cost Segregation Professionals (www.ASCSP.org). With over 35 years of cost segregation experience dating back to the Investment Tax Credit period, Eddie is one of the most experienced experts in the industry. » Full Bio
Bill Taylor
Director – Research & Development Tax Credit
Texas
Bill Taylor is a Director for KBKG's Research & Tax Credit Consulting practice. Based in Dallas, TX, Bill has over 10 years of experience providing federal tax consulting services to companies of all sizes within various industries, including technology, aerospace and defense, manufacturing, oil and gas, gaming, banking, and other professional services. » Full Bio
Questions about tax saving strategies? Contact us today for a free benefit estimate. We're happy to help.