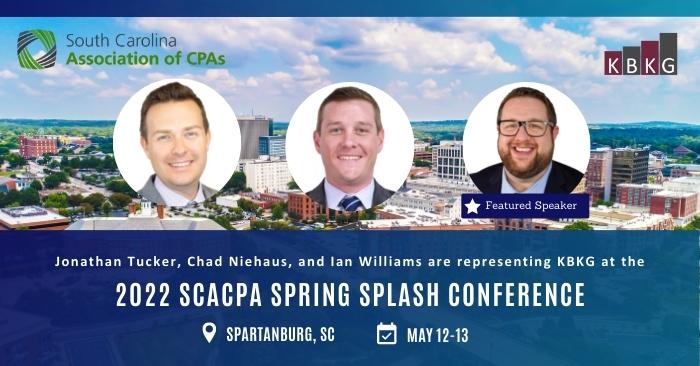 Our Research and Development Tax Credit Director, Ian Williams, is speaking while Principal, Jonathan Tucker, and Regional Director Chad Niehaus are representing KBKG at the SCACPA Spring Splash Conference 2022. This event takes place from May 12th and May 13th in Spartanburg, SC. Our Southeast team specializes in Cost Segregation, Green Building Tax Incentives (45L and 179D), Transfer Pricing, and more. Ian will be giving a presentation on R&D Tax Credits Overview on Thursday, May 12th at 3:30 PM.
About the SCACPA Spring Splash Conference
The SCACPA Spring Splash Conference offers an entertainment night, key sessions, virtual options, a CPA oath ceremony, and an annual meeting. They have education beyond CPE, from dozens of topics including Tax, A&A, Industry, Non-Profit, and Variety. SCACPA and the SC Board of Accountancy will again recognize and honor SC's newest CPAs! During lunch, the Oath Ceremony will take place on Thursday, May 12th. The SCACPA members' professional growth and continued success drive all of the Association's decisions, strategies, and actions. Members depend on SCACPA to be the most vital voice for the profession in the State, to protect and promote the value of the CPA credential. SCACPA do this with an eye on the future, always looking beyond the status quo to identify new ways of providing value to their members.
This year's event is scheduled for Thursday and Friday, May 12th and May 13th, at 8:00 AM at Spartanburg Marriott.
About KBKG's Southeast Team
At KBKG, we are passionate about helping business owners and accounting professionals across the Southeast region. Our value-added tax services include Cost Segregation, Research & Development Credits, Green Building Tax Incentives (179D & 45L), Transfer Pricing, IC-DISC, and more.
Questions about tax-saving strategies? Contact us today for a free benefit estimate. We're happy to help.