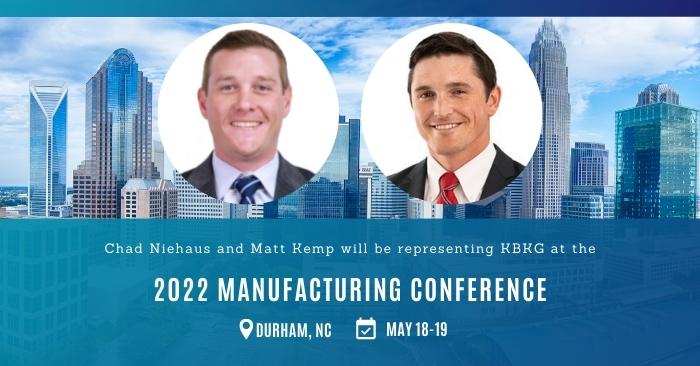 KBKG Regional Director and Team Lead, Chad Niehaus, and Regional Director, Matt Kemp, will be representing the firm at the 2022 Manufacturing Conference on May 18th and 19th. This conference is focused on addressing and sharing solutions to take advantage of the opportunities and combat the challenges presented in modern manufacturing. The four focus areas of MFGCON 22 will include Workforce Excellence, Leadership and Culture, Operational Excellence and Technology, Innovation, and Strategic Growth.
About the Attendees
Chad Niehaus is a Regional Director and Team Lead at the firm's southeast operations. Also, a part of the southeast team, Matt Kemp is a Regional Director.
Did You Know? Manufacturing Companies Can Claim R&D Tax Credits.
Many manufacturing companies are unaware that their efforts within designing and developing their products can yield a large amount of research credits. Examples of R&D activities related to the industry as well as potentially qualifying job titles are listed below.
Examples of Qualifying R&D Activities
Determining tooling requirements and optimal placement of equipment
Developing new or improved quality assurance testing processes
Developing prototypes using computer-aided design (CAD) and computer-aided manufacturing processes
Potentially Qualifying R&D Job Titles
Computer Numerically Controlled (CNC) Operator
Computer-Aided Design (CAD) Technician
Design Engineer
Learn more about KBKG and the southeast office, R&D Tax Credits, and other services.