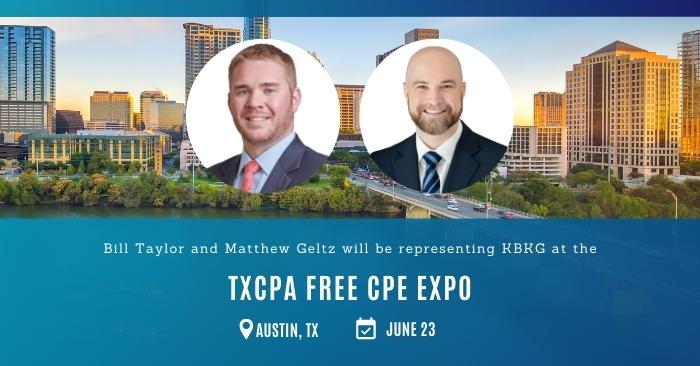 Our Director of R&D Tax Credits and ERTC, Bill Taylor is speaking at the TXCPA Free Expo on June 23rd. Along with him, our Regional Director, Matthew Geltz, is representing KBKG at the exhibit hall. The TXCPA Free CPE Expo is taking place on June 23rd at the UT Commons Conference Center in Texas.
About the TXCPA Free CPE Expo
The TXCPA Free CPE Expo is the most anticipated event of the year. TXCPA is so excited to be back in person with our members this year. Make plans to join us on Thursday, June 23rd at the UT Commons Conference Center. In appreciation of our members, TXCPA Austin hosts this annual Free CPE Expo complimentary to those who renew their dues by May 31. As always, we will offer a variety of topics for eight hours of interesting and relevant continuing education plus networking opportunities. A continental breakfast, lunch, and self-parking are also included!
CURRENT SCHEDULE:
7:45 am: Registration & Breakfast with Exhibitors
8:30 am: Welcome and Session Kick Off
8:40 am: Challenging Sales/Use Tax Audits
9:30 am: New Rules & Tax Considerations: R&D Credits & ERTC
10:35 am: 5 Essential Elements for a Successful Financial Life
12:20 pm: Lunch & Networking with Exhibitors
1:00 pm: Cybersecurity: Your Secret Edge
1:50 pm: Adding Value to Your Practice
2:55 pm: Leader of the Pack: Improving Your Nonprofit's Charity Ratings
3:50 pm: Sharing the Pain between Workers and Management: Evidence from the COVID-19 Pandemic and 9/11 Attacks
About KBKG's Texas Team
At KBKG, we are passionate about helping business owners and accounting professionals across the Texas region. Our value-added tax services include Cost Segregation, Research & Development Credits, Green Building Tax Incentives (179D & 45L), Transfer Pricing, IC-DISC, and more.
Questions about tax-saving strategies? Contact us today for a free benefit estimate. We're happy to help.