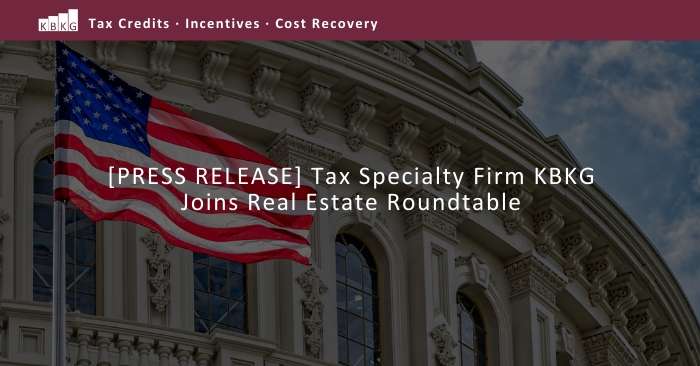 Last year, specialty tax incentive firm KBKG joined the Real Estate Roundtable (RER), and several of KBKG's executive leadership team currently serve as members of the organization's President's Council, Associate Council, and Committees. RER's mission is to bring together leaders of the nation's top, publicly held and privately-owned firms with major national real estate industry trade associations to jointly address important national policy issues relating to real estate and its role in the global economy. As members, KBKG has been able to participate in policy debates and advancing industry endorsed solutions to policy questions.
Principal and practice leader, CJ Aberin, is a member of RER's President's Council which is comprised of individuals from leading real estate ownership, financial, management, and advisory firms. Additionally, he is a member of both the Tax Policy Advisory Committee and the Sustainability Policy Advisory Committee and has actively provided input to both committees to improve tax policy on cost recovery and energy efficiency incentives for the commercial real estate industry.
Other members of KBKG's leadership team serving on RER committees include:
Associate Council members include Gian Pazzia, Malik Javed, Lester Cook, Eddie Price, Sumit Sharma, and So Sum Lee.
Earlier this year, Ryan McCormick, Senior Vice President & Counsel for Tax Policy at RER provided a legislative update on behalf of KBKG to inform tax practitioners and clients with an update as to what to expect from Capitol Hill over the year with possible timelines that are now coming into fruition.
"Over the last decade, I have had the privilege to use my voice to represent the real estate industry in the Capitol in collaboration with various organizations. Joining RER provides yet another opportunity to be a part of a larger conversation, represent the real estate community, and provide greater value for our clients." remarked CJ Aberin, Principal of KBKG.
Learn more about the Real Estate Roundtable »