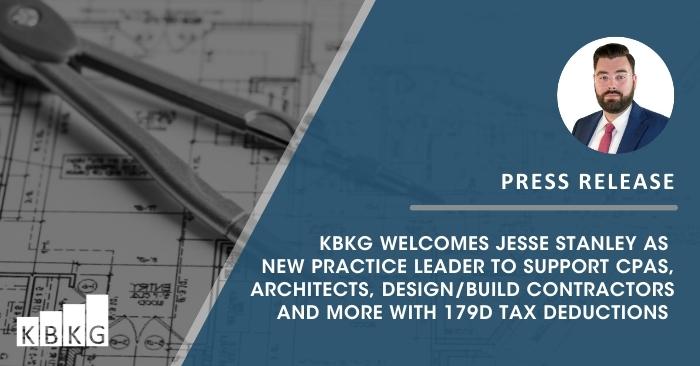 PASADENA, Calif., October 24, 2022 (Newswire.com) – KBKG Tax Credits & Incentives firm welcomes Jesse Stanley as its Director and Practice Leader of the 179D Tax Deduction Group. The firm has provided 179D engineering analyses to CPAs and businesses for over a decade. Jesse further expands KBKG's expertise in the 179D, green energy, and sustainability professional services space to meet the needs of its clients and partners today and into the future.
The 179D Energy Efficient Commercial Building Deduction (also known as the EPAct Deduction) provides commercial building owners, as well as architects, engineers, and other designers of government, nonprofit, tribal, and other tax exempt buildings with a deduction up to $5.00 per square foot for qualifying energy-efficient improvements. These benefits apply to new construction or improvements to a building's lighting, HVAC, and building envelope systems. Under IRS guidelines, the basis for developing and supporting the 179D Deduction is a detailed engineering analysis performed by a third-party provider.
As practice leader of the 179D team, Jesse joins KBKG with over 15 years of experience in the energy, sustainability, and tax consulting industries. Jesse is a licensed engineer in 39 states. He is a subject matter expert on energy efficiency in buildings, sustainability, mechanical system design, building controls, and daylighting design having presented to ASHRAE Conferences, former Congressmen, federal agencies, and state government officials.
Jesse has helped architects, engineers, and design-build contractors claim the 179D Energy Efficient Commercial Building Tax Deduction on new and existing building projects across over 2 billion square feet of commercial building space.
"We are thrilled to welcome Jesse to the team. His passion, in combination with his experience in the sustainability space, will be an asset to our team and the clients we serve," remarked CJ Aberin, Principal of KBKG's Green Building Tax Incentives (45L & 179D). "He brings a wealth of knowledge that will help shape our firm as we continue to grow this practice to meet the needs of the market. On a personal note, he's a stand-up human that really understands our values and mission here at KBKG. We strive to always do the right thing by our clients, and I trust that Jesse will continue that charge as the future of this department."
About KBKG
Established in 1999 with offices across the U.S., KBKG provides turn-key tax solutions to CPAs and businesses, including research and development tax credits, cost segregation, green building tax incentives (45L tax credits and 179D deductions), transfer pricing for multinational businesses, and more. KBKG has office locations nationwide with employees located in Los Angeles, San Diego, San Francisco, Seattle, Chicago, Detroit, Atlanta, New York City, and Dallas-Fort Worth.
For more information about KBKG, please visit KBKG.com.
Download: Welcomes Jesse Stanley as New Practice Leader to Support CPAs, Architects, Design/Build Contractors and More with 179D Tax Deductions
Related Articles