New Service
Employee Retention Tax Credit
LEARN MORE
The Employee Retention Tax Credit (ERTC) was created as part of the CARES Act to encourage businesses to continue paying employees by providing a credit to the eligible employer for wages paid to eligible employees.

LEARN MORE
HUNDREDS OF MILLIONS
IN R&D TAX CREDITS CLAIMED
Providing Services, education, & Solutions
Nationwide to Fuel Your Tax Saving Programs
LEARN MORE
WEBINARS
Startups automatically qualify for $50,000
DID YOU KNOW?
LEARN MORE
The 179D Tax Deduction
is now Permanent
LEARN MORE
Ready to Get Started?
Did you or your client
experience tax losses
internationally?
LEARN MORE
Transfer Pricing can help.
Do you qualify for tax incentives?
SEE IF YOU QUALIFY
KBKG can help you quickly identify if you are a candidate for several key tax credits and deductions.
KBKG made things easy and also looked out for my best interest, even going above and beyond when it benefited me but was outside of the scope of our contract.
SHARE YOUR EXPERIENCE
❞
❝
What We Do
Here at KBKG, we understand that all individuals, companies, and accounting systems are different. We are a client-centric firm with a primary objective of delivering value to those that we serve. We offer a wide range of services that cater to your specific needs and interests. Let's start a conversation and see what we can do together.
Give us a call at 877-525-4462
Questions about tax credits, deductions, or cost recovery?
Our team of experts are well-versed in their respective fields and are able to answer most any question.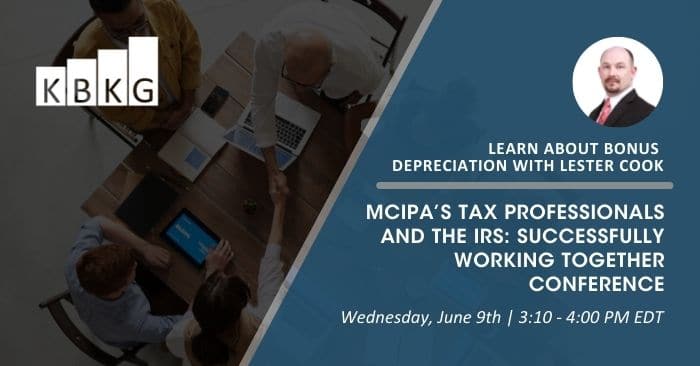 KBKG Principal Lester Cook, CCSP will be virtually presenting Bonus Depreciation Update at MICPA's Tax Professionals and the IRS: Successfully Working Together Conference. Taking place on June 9th from 3:10 PM – 4 PM Eastern time, this presentation will provide information on bonus depreciation and other related depreciation issues. Lester will clarify when bonus depreciation … Read More
SUBSCRIBE
Subscribe to receive the latest IRS updates, state and federal tax-related news, and information on industry-specific credits and incentives.
Join us for a free webinar