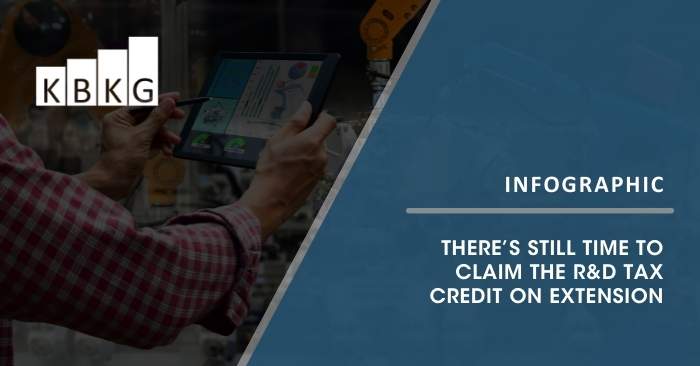 Are you or your clients interested in claiming the R&D Tax Credit? Good news. There is still time to perform a study for inclusion on your extended returns, but you must act fast. Time is running out.
What is the R&D Tax Credit?
The Research and Development Tax Credit can be applied to qualified research expenses such as wages, supplies, and contract research for businesses in a wide variety of industries.
How long does it take to perform a study?
A typical R&D Tax Credit study takes anywhere from 4-6 weeks to complete the quantitative portion of an R&D study for inclusion on your tax return. We understand that tax season is busy, and we do what we can to minimize time and effort on your part to finalize the study.
What is the Process for Claiming the R&D Tax Credit?
The first step in our process begins with a review of preliminary information including employee rosters, tax returns, and trial balances. Our technical team will then sit down with select company personnel and review the activities and projects worked on during the year. Next, we quantify the costs and aggregate them by category and business component. Then, we calculate the tax credits with the method that would yield the best and most sustainable results under audit. Once the analysis is complete, we provide detailed documentation for the tax credit, as well as a support package for use in the event of an audit.
One of the key steps in the KBKG process is our quality and risk management review. Prior to releasing our report to clients, KBKG's team of former IRS engineers "audited" the study the way they would be audited during a routine IRS exam. Any areas that require attention are addressed prior to release to our clients. In addition to peace of mind, this yields a stronger, more sustainable report and is one of the key differentiators of the KBKG methodology.

To be eligible for R&D Tax Credits, research activities must meet the criteria in the IRS Four-Part Test. To learn more about the R&D Tax Credit, contact our experts and reference the infographic below for more information about our process.