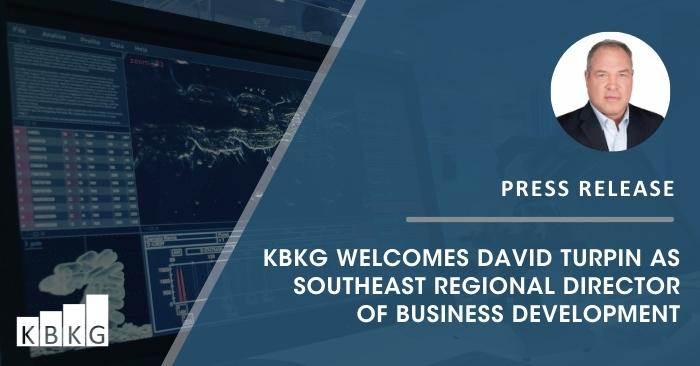 Pasadena, Calif. – November 14, 2022 – KBKG, a tax credits and incentives consulting firm, welcomes David Turpin as its Southeast Regional Director of Business Development. Turpin comes to KBKG with more than 15 years of experience in the accounting and financial services industry.
In his role, Turpin will nurture and support relationships with KBKG's clients in the Southeast region. Turpin will also work to develop new business opportunities and create a variety of customized solutions for KBKG's clients including Cost Segregation Studies, Research and Development Tax Credits, Green Building Tax Incentives (179D & 45L), and more. KBKG professionals based in the Southeast work with engineers and tax experts from its headquarters to perform thousands of tax projects resulting in hundreds of millions of dollars in benefits for its clients.
Prior to joining KBKG, Turpin served as a partner at a merger and acquisition advisory firm he co-founded. In that role, he worked as a C-level executive at one of Silicon Valley's Fortune 500 technology companies, as well as the Director of Business Development of a top-20 national accounting and M&A advisory firm.
"We couldn't be more excited to welcome David to our team," said Jonathan Tucker, KBKG Principal. He possesses years of practical industry experience and brings a wealth of knowledge that will be invaluable to us, as KBKG continues to expand its footprint in the Southeast region. David is a self-starter who has a proven track record of success, and I can't wait to see what he accomplishes."
KBKG's southeast operations are based in Atlanta, Georgia with a network of remote support throughout the region. Jonathan Tucker, the firm's southeast regional leader and Principal of R&D Tax Credit Services, oversees a growing team of technical experts that serve businesses located in Georgia, Florida, South Carolina, North Carolina, Tennessee, Alabama, and Mississippi.
About KBKG
Established in 1999 with offices across the U.S., KBKG provides turn-key tax solutions to CPAs and businesses, including research and development tax credits, cost segregation, green building tax incentives (45L tax credits and 179D deductions), transfer pricing for multinational businesses, and more. KBKG has office locations nationwide with employees located in Los Angeles, San Diego, San Francisco, Seattle, Chicago, Detroit, Atlanta, New York City, and Dallas-Fort Worth.
For more information about KBKG, please visit KBKG.com
Download: KBKG Welcomes David Turpin as Southeast Regional Director of Business Development
Press Contact:
Bethany Wolfe
Director – Marketing
[email protected]