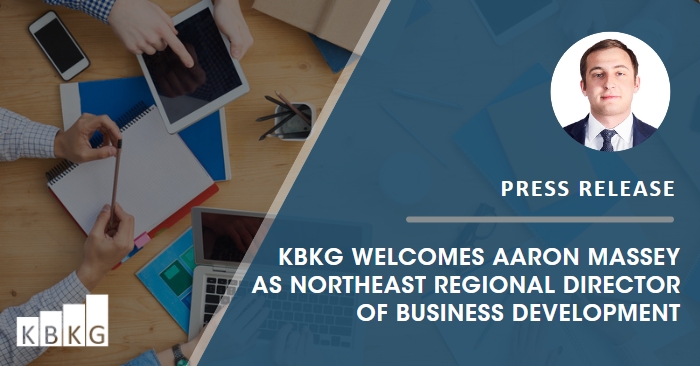 Pasadena, Calif. – KBKG, a tax credits and incentives consulting firm, welcomes Aaron Massey as its Northeast Regional Director of Business Development. Massey joins KBKG after serving as the VP of Capital Markets for a national debt and equity brokerage firm for six years.
In his role, Massey will focus on growing KBKG's presence in the Philadelphia area and the greater Northeast region by supporting current clients and building new relationships. He will also work with other KBKG professionals based in the region, as well as engineers and tax experts from the firm's Pasadena, California headquarters. KBKG has performed thousands of tax projects, resulting in hundreds of millions of dollars in benefits for its clients.
Prior to joining KBKG, Massey was part of a capital management firm where he was responsible for sourcing, underwriting, negotiating, and closing commercial debt and equity deals. During that timeframe, Massey negotiated the largest transaction that the firm's Chicago branch had ever closed, totaling $65 million.
"Aaron's background is the perfect complement to our growing team," said Robert VanDeVeire, Director. "He has a proven track record of closing deals with businesses in various industries across stateliness, which is a testament to his ability to cultivate relationships. We are thrilled to have Aaron onboard."
KBKG's Northeast operations are based in New York, New York with a network of remote support throughout the region, which is led by Sumit Sharma and Paul McVoy. Sharma is a Principal of Cost Segregation and McVoy is a Principal of Research & Development Credits. Together, they oversee a growing team of technical experts that serve businesses located in West Virginia, Virginia, Pennsylvania, New York, Maine, Rhode Island, Connecticut, New Hampshire, Massachusetts, Maryland, Vermont, new Jersey, Delaware, and Washington D.C.
About KBKG
Established in 1999 with offices across the U.S., KBKG provides turn-key tax solutions to CPAs and businesses, including research and development tax credits, cost segregation, green building tax incentives (45L tax credits and 179D deductions), transfer pricing for multinational businesses, and more. KBKG has office locations nationwide with employees located in Los Angeles, San Diego, San Francisco, Seattle, Chicago, Detroit, Atlanta, New York City, and Dallas-Fort Worth.
For more information about KBKG, please visit KBKG.com.
Download: KBKG Welcomes Aaron Massey as Northeast Regional Director of Business Development
Press Contact:
Bethany Wolfe
Director – Marketing
[email protected]