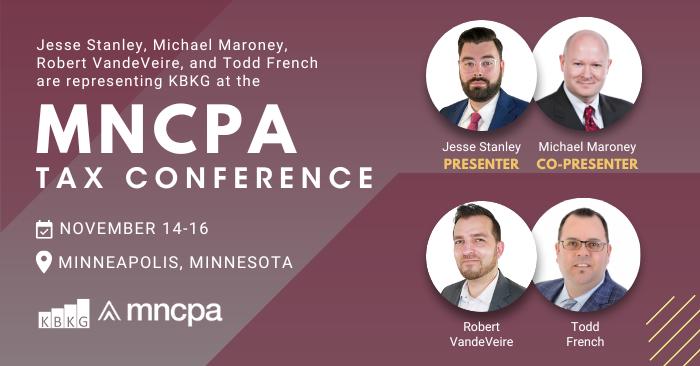 Our Directors, Jesse Stanley, and Michael Maroney are speaking at the MNCPA Tax Conference. Alongside with them Is our Director, Robert VandeVeire, and Regional Director Todd French. This conference takes place from November 14th to 16th in Minneapolis, Minnesota.
About the MNCPA Tax Conference
Crack the tax code at the MNCPA's largest event of the year. Whether you're a long-time attendee or joining the tax team at a firm for the first time, this is a must-attend event with expert guidance for year-end tax planning and busy season prep. Choose from a variety of sessions covering Minnesota, federal and international tax issues for both individuals and businesses. Who should attend this event? Tax practitioners, advisers and preparers who work in public practice; tax and financial staff and leaders working for small and large businesses; staff and leaders working in tax roles for government entities
About the KBKG Team
Established in 1999 with offices across the United States, KBKG provides turn-key tax solutions to CPAs and businesses. By focusing exclusively on value-added tax services that complement traditional tax and accounting teams, KBKG always delivers quantifiable benefits to clients. The firm provides access to its knowledge base and experienced industry leaders. KBKG determines which tax programs benefit clients and stay committed to handling each relationship with care and diligence. KBKG's ability to work seamlessly with its clients is the reason many tax professionals and businesses across the nation trust KBKG.
Questions about tax-saving strategies? Contact us today for a free benefit estimate.