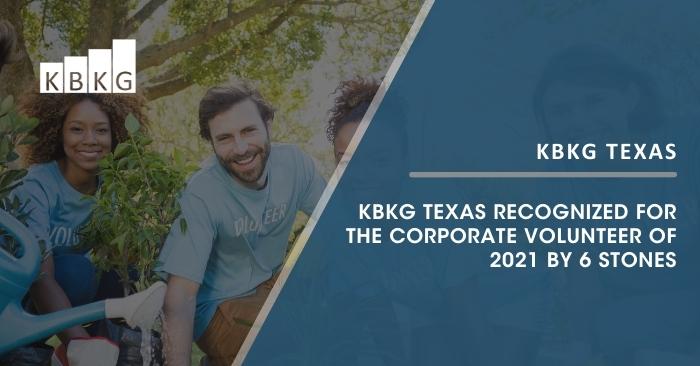 On February 18, 2022, our Cost Segregation Principal, Eddie Price, and our Texas team will be recognized at the Volunteer Appreciation Luncheon by the non-profit organization, 6 Stones. KBKG is being named the Corporate Volunteer of 2021 for its commitment to the community. We are proud to support the great work done by 6 Stones through financial contributions and by encouraging our team members to volunteer at 6 Stones events.
"I personally appreciate the generous way our firm supports such efforts and am delighted to receive this recognition on behalf of KBKG." – Eddie Price
Eddie and our Texas team regularly volunteer at the 6 Stones CPR Blitz. The Community Powered Revitalization (CPR) event is organized by 6 Stones, with the support of many different groups, including the cities of Hurst, Euless, Bedford, and Grapevine, local businesses, non-profits, and churches to help homeowners who are struggling to make necessary home repairs.
Congratulations team!
Learn more about Eddie Price
Learn more about KBKG's Texas Office
Learn more about 6 Stones