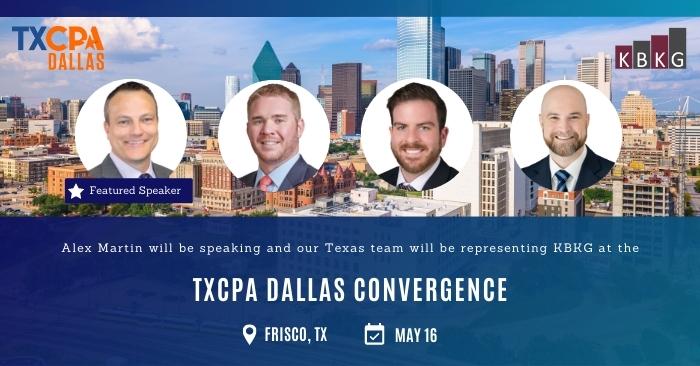 Alex Martin, Transfer Pricing Principal, will be speaking at TXCPA Dallas Convergence on Monday, May 16th. He'll be joined by Bill Taylor, William Long, Matthew Geltz, Mike Cornell, and Emily Kennedy from our Dallas Fort-Worth office. This event is taking place at the Omni Frisco Hotel in Frisco, Texas.
About the TXCPA Dallas Convergence
TXCPA Dallas' annual education conference has experienced enormous growth in its 17 years of existence. Since its beginning in 2004 as "Free CPE Day" with a registration of about 300, the Convergence program has grown to over 1,200 financial industry professionals attending a nationally recognized event featuring the latest in industry information delivered by an extraordinary slate of experts. The conference offers 8 hours of continuing professional education credits for attendance at a wide selection of informative sessions led by some of the leading authorities in the accounting and financial services industries.
With a committed sponsorship for this event, organizations receive a variety of benefits based on the level of their participation, including name exposure to our entire membership of over 6,200 accountants.
About Our Texas Team
At KBKG, we are passionate about helping business owners and accounting professionals across the Southern area. Our value-added tax services include Cost Segregation, Research & Development Credits, Green Building Tax Incentives (179D & 45L), Transfer Pricing, IC-DISC, Employee Retention Tax Credits, and more. Our Dallas Fort Worth-based KBKG engineers and tax experts have performed thousands of tax projects, resulting in millions of dollars in benefits for our clients.
Questions about tax-saving strategies? Contact us today for a free benefit estimate. We're happy to help.