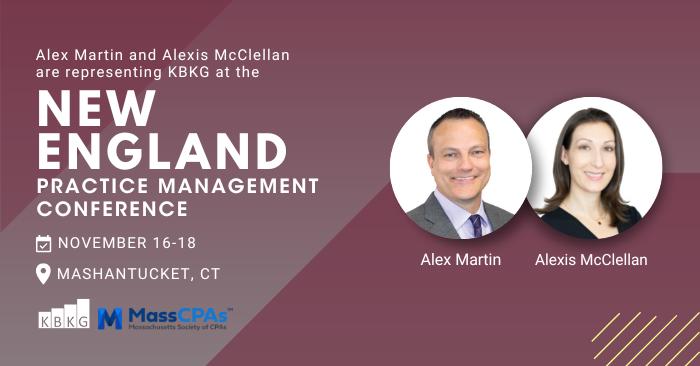 Our Principal, Alex Martin, and Regional Director, Alexis McClellan will be exhibiting at the New England Practice Management Conference. This conference takes place from November 16th to 18th at the Foxwoods Resort Casino in Mashantucket, CT.
About the New England Practice Management Conference
The New England Practice Management Conference is three days of networking, reconnecting with your peers, and informative sessions on the top issues facing firms. Developed by firm leaders for firm leaders and their successors, this conference will feature some of accounting's foremost thought leaders.
About the KBKG Team
Established in 1999 with offices across the United States, KBKG provides turn-key tax solutions to CPAs and businesses. By focusing exclusively on value-added tax services that complement traditional tax and accounting teams, KBKG always delivers quantifiable benefits to clients. The firm provides access to its knowledge base and experienced industry leaders. KBKG determines which tax programs benefit clients and stay committed to handling each relationship with care and diligence. KBKG's ability to work seamlessly with its clients is the reason many tax professionals and businesses across the nation trust KBKG.
Questions about tax-saving strategies? Contact us today for a free benefit estimate.