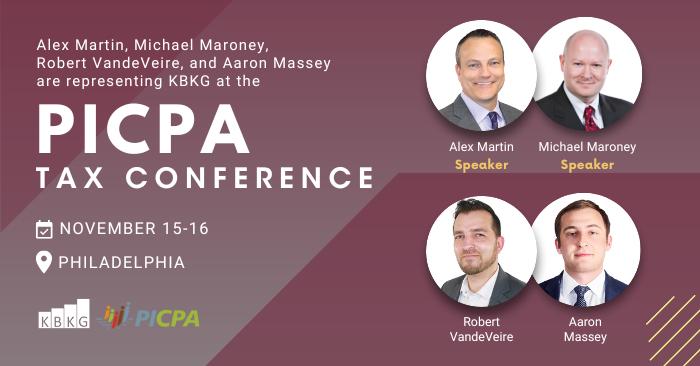 Our Principal, Alex Martin, and Director, Michael Maroney are speaking at the PICPA Tax Conference. Alongside them is our Director, Robert VandeVeire, and Regional Director, Aaron Massey. This conference takes place from November 15th to 16th in Philadelphia.
About the PICPA Tax Conference
Tax Con is back, and it's bigger and better than ever! Get the lowdown on everything tax from Pennsylvania Department of Revenue officials, national and local tax specialists, and more. Expanding from the Pennsylvania Taxes and Multistate Conference, Tax Con offers tracks dealing with local, state, federal, and international tax trends and regulations. Choose from dozens of concurrent sessions over two days for a comprehensive CPE experience that makes you the expert you want to be and the one your clients expect. Highlights: Pennsylvania Corporate Tax Update, New Final Foreign Tax Regulations – May Create Double Taxation, Federal Corporate Update, Multistate Tax Kickoff/Update, Information Security and Identity Theft, and IRS Update with Richard Furlong, IRS Senior Stakeholder Liaison.
About the KBKG Team
Established in 1999 with offices across the United States, KBKG provides turn-key tax solutions to CPAs and businesses. By focusing exclusively on value-added tax services that complement traditional tax and accounting teams, KBKG always delivers quantifiable benefits to clients. The firm provides access to its knowledge base and experienced industry leaders. KBKG determines which tax programs benefit clients and stay committed to handling each relationship with care and diligence. KBKG's ability to work seamlessly with its clients is the reason many tax professionals and businesses across the nation trust KBKG.
Questions about tax-saving strategies? Contact us today for a free benefit estimate.