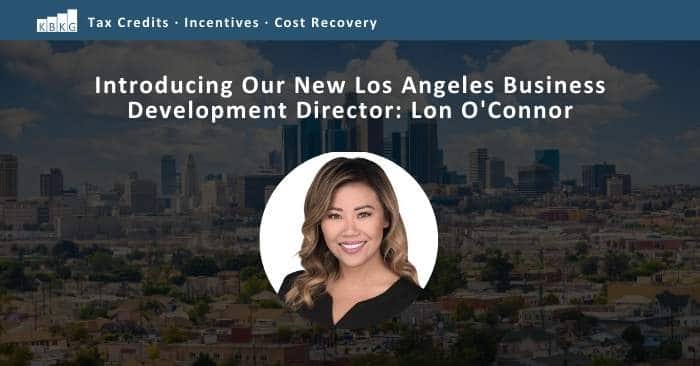 We recently added a Business Development Director at KBKG, Lon O'Connor, based out of our Pasadena headquarters. As a Director, she covers the Los Angeles region and focuses on building in-depth relationships with our CPA and industry partners. Lon has over 18 years of business management experience and spent the last decade serving small to mid-sized businesses with various tax credits and incentives.
"I am thrilled to join a well-established, recognized firm like KBKG! I am beyond grateful to serve our clients and CPA partners to carry out our daily mission of helping our clients take full advantage of the credits and incentives available to them." – Lon O'Connor
Lon is versed in working with many industries, including manufacturing, architecture, engineering, software development, system integration, contractors, and others. She has helped her clients take advantage of over $300 million in total benefit.
Lon has always had a passion for numbers and enjoys educating her clients on the latest tax code changes to help them utilize these credits and incentives. She received her B.A. from the University of CA, Irvine.
"We landed a great asset in the tax consulting space and we're thrilled to have her join the team." – Gina Lim, Business Development National Director
Lon enjoys vacationing and lounging by the pool with her husband, two kids, and their husky/retriever mixed dog. Lon is known as being one of the louder moms on the sidelines of her son's football games or her daughter's softball tournaments.
Welcome to the team, Lon!
Fun Fact: Lon completed her first full marathon in early 2020 and is still an active runner.
Lon's Contact Info:
877.525.4462 x290
[email protected]