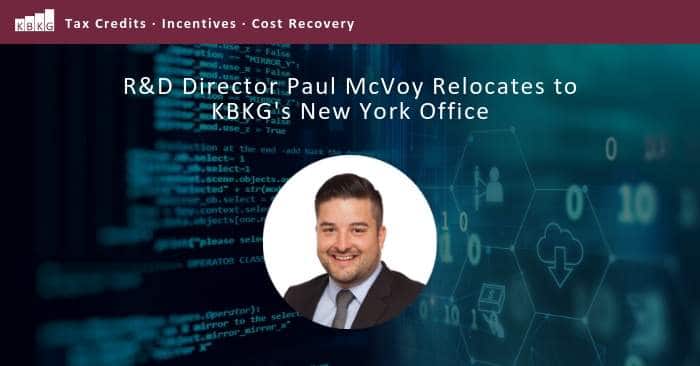 We are excited to announce that we are expanding our New York City office in Midtown with the addition of Research & Development Tax Credit Service Director Paul McVoy, who is relocating from KBKG's Pasadena Headquarters. While KBKG has had a strong presence in the New York City area for several years, Paul's addition will provide additional R&D knowledge and resources to the Northeast Region.
Paul devotes his time to consulting companies in maximizing their R&D tax credit claims. He has more than 14 years of experience and has successfully represented many clients, from start-ups to Fortune 100 and 500 companies in tax controversy related to their research credits claims. Paul has worked closely with engineers, scientists, software developers and C-Suite personnel in a wide range of industries throughout the country.
"We are thrilled to have Paul join the KBKG New York team, he is an invaluable asset and has a wealth of knowledge about R&D tax credit issues. New York is a fantastic, booming city of growth and industry. We've developed so many lasting relationships in the New York and surrounding markets and look forward to continuing relationships with our current R&D clients and developing new ones." – Malik Javed, Cost Segregation Principal
In addition to Paul, the New York Office has welcomed several new team members in the past 6 months, including Regional Director Alexis McClellan and Regional Manager Pedro Martin-Moreno Torres. Alexis brings 10 years of client relations experience in the HR/Payroll and Finance and Accounting space, consulting with clients on the best ways to stay compliant and improve efficiencies. Pedro has previous experience working with clients in the business sphere, including structuring and originating business purpose loans for real estate developments, commercial properties, and residential properties. In a short amount of time, both Alexis and Pedro have already become valuable resources for their clients at KBKG.
KBKG's New York-based office is comprised of engineers and tax experts whose sole objective is to assist taxpayers and CPA's in the lowering of effective tax rates. KBKG has performed thousands of tax projects resulting in hundreds of millions of dollars in benefits for our clients. The New York team is a group of passionate people who care about their communities by being actively involved in numerous community outreach and charitable organizations. KBKG's New York office is home to industry thought leaders that provide valuable insight and experience across several specialties and industries.
Beyond Research & Development Tax Credits, KBKG New York also offers a range of specialty tax services including, but not limited to, cost segregation, green building tax incentives, repair vs. capitalization review, IC-DISC, as well as a full suite of software tools and calculators designed with the busy CPA in mind. KBKG New York leadership is poised and ready to take on the next tax season armed with a new, key team member.
Learn about KBKG's New York Office »
Learn more about Paul McVoy »