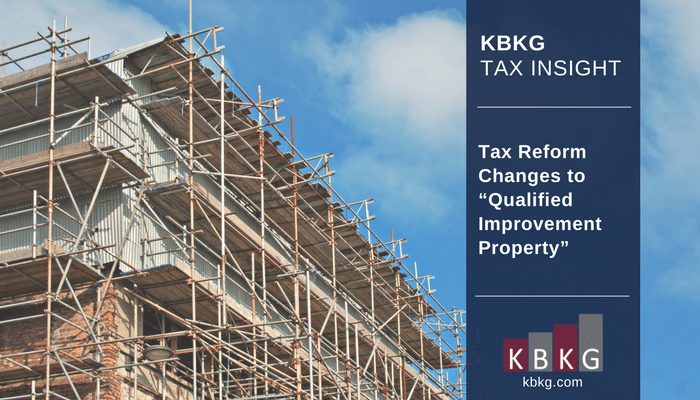 As the dust is settling from tax reform, many CPAs are scrambling to keep track of the various sections of the tax code that were affected. The new law eliminates depreciation categories for qualified leasehold improvements (QLI), qualified restaurant property (QRP), and qualified retail improvement property (QRIP) and replaces them with qualified improvement property (QIP). In this post, we discuss some new rules for QIP and provide an update to KBKG's Qualified Improvement Reference Chart that tax professionals can reference during tax season.
Qualified Improvement Property (QIP)
QIP placed in service after 2017 is now depreciated over 15 years (versus the prior 39-year life) and remains eligible for bonus depreciation. Additionally, the new law provides a 20-year Alternative Depreciation System (ADS) life (versus the prior 40-year life). The ADS change is important because using the ADS life for QIP is mandatory for taxpayers making the new election out of the limitation on interest deductions. As such, no bonus depreciation is available on QIP that must be depreciated using the ADS.
---
KBKG Insight: The published committee report outlines Congress' intent to provide a 15-year life and bonus depreciation for qualified improvement property (QIP) placed in service after 2017. However, the drafters of the actual legislation did not properly amend the tax regulations to provide bonus depreciation or a 15-year life for QIP. This error is expected to be addressed in future technical corrections.
---
Bonus Depreciation Considerations
Bonus depreciation has been increased to 100 percent through 2022, at which point it will decrease 20 percent every year after. Notably, bonus depreciation is now available for used property after September 27, 2017 but not available if the taxpayer leased the property before purchasing it. Finally, bonus depreciation is not available to certain taxpayers with floor plan financing (for motor vehicles, boats, and farm machinery). As such, many auto dealers will not benefit from bonus depreciation.
Section 179
Qualifying property eligible for 179 expensing now includes roofs, HVAC, fire protection & alarm systems, and security systems, providing these improvements are made to non-residential real property and placed in service after the building was first placed in service.
Section 179 expensing is also expanded to include tangible personal property used in association with furnishing lodging, such as furniture and appliances in hotels, apartment buildings, and student housing. After 2017, Qualified Improvement Property is eligible for 179 expensing.
With so many changes to depreciation laws over the years, there is often confusion regarding the qualification, recovery periods, and bonus eligibility of various real property improvements. KBKG's Qualified Improvements Reference Chart (updated 02-02-2018) consolidates these rules into a simple reference table tax professionals can use to maximize deductions.
---
You can download our Qualified Improvements Quick Reference Chart for an easy-to-use resource reflecting these new changes for free, by joining our mailing list. Download will be available immediately following submission:
Access the Qualified Improvements Quick Reference Chart



---
Action Steps: If you have you purchased, constructed, or spent more than $750k on building improvements (not including land) in the last 15 years, you may qualify for cost segregation. » Find out if your building improvements qualify for cost segregation
---
Download Article: KBKG Tax Insights: Tax Reform Changes to "Qualified Improvement Property"
Authors: Geoff Gan, CCSP, MBA & Gian Pazzia, CCSP