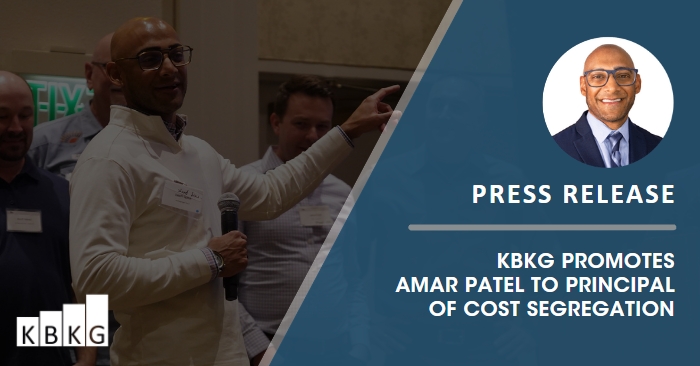 PASADENA, Calif. – KBKG, a tax credits and incentives consulting firm, has announced the promotion of Amar Patel to Principal of Cost Segregation. Patel is based out of the firm's Southeast office and most recently spent the past two years as the Director of Cost Segregation.
"Amar and I have known each other our entire careers, so I know what kind of person he is and what he is capable of," said Jonathan Tucker, Principal. "Ever since Amar joined our team, he has continually proven why he is one of the best in the business at what he does. Amar is more than deserving of this promotion, as his work ethic is reflected in his ability to find tax-saving solutions for our clients. Everyone he works with enjoys his presence and what he brings to the table. I couldn't be happier to be partners with my colleague I started my career with and to see how he will help our company continue its upward trajectory."
For the last 16 years of practicing, Patel has become an expert in cost segregation and large fixed asset depreciation reviews for purposes of identifying federal, state, and property tax benefits. In his elevated role as Principal, Patel will lead KBKG's cost segregation practice for the firm's Southeast region, which includes cost segregation, fixed asset reviews, and tangible property reviews. Patel will also take on a national role of overseeing accounting method issues related to capitalization, Section 1031 interplay with cost segregation, and develop tax planning insights, as well as thought-leadership related to tax capitalization.
Along with his Georgia CPA license and American Institute of CPAs membership, Patel is also part of the American Society of Cost Segregation Professionals and is a Certified Authorization Filer with the IRS.
KBKG's Southeast operations are based in Atlanta, Georgia with a network of remote support throughout the region. Tucker is the firm's Southeast regional leader and Principal of R&D Tax Credit Services. He oversees a growing team of technical experts that serve businesses located in Georgia, Florida, South Carolina, North Carolina, Tennessee, Alabama, and Mississippi.
About KBKG
Established in 1999 with offices across the U.S., KBKG provides turn-key tax solutions to CPAs and businesses, including research and development tax credits, cost segregation, green building tax incentives (45L tax credits and 179D deductions), transfer pricing for multinational businesses, and more. KBKG has office locations nationwide with employees located in Los Angeles, San Diego, San Francisco, Seattle, Chicago, Detroit, Atlanta, New York City, and Dallas-Fort Worth.
For more information about KBKG, please visit KBKG.com.
DOWNLOAD: KBKG Promotes Amar Patel to Principal of Cost Segregation
Press Contact:
Bethany Wolfe
Director – Marketing
[email protected]