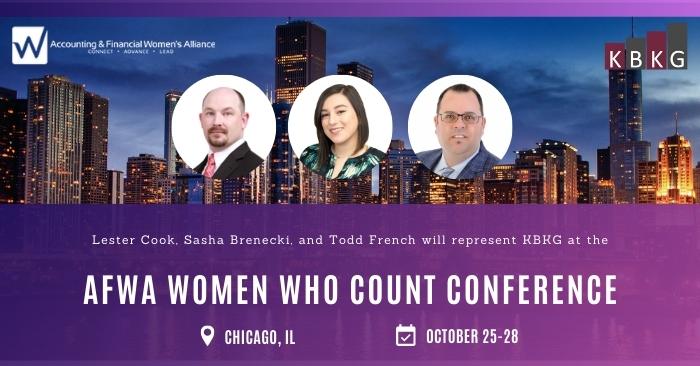 Attending the AFWA Women Who Count Conference is Principal, Lester Cook, Manager, Sasha Brenecki, and Regional Director Todd French who will represent KBKG at the event, which takes place October 25th-28th in Chicago, Illinois at The Drake.
About the Event
This is the first time in two years that the AFWA will host its annual Women Who Count Conference in person. The yearly event brings professionals from all accounting and finance industry sectors together for four days of networking and education. To help educate attendees, the conference features speakers covering topics on accounting, tax, finance, leadership, communications, and more.
Industry professionals from across the country attend AFWA's Women Who Count Conference to become more knowledgeable on industry trends and gain a competitive edge with leadership development. Conference veterans and new attendees alike join to connect with each other, gain insight and inspiration and celebrate the AFWA experience.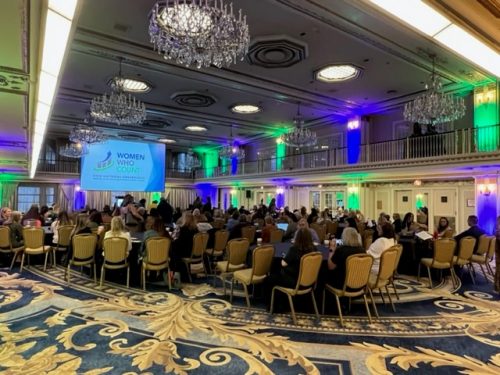 About the KBKG Team
Established in 1999 with offices across the United States, KBKG provides turn-key tax solutions to CPAs and businesses. By focusing exclusively on value-added tax services that complement traditional tax and accounting teams, KBKG always delivers quantifiable benefits to clients. The firm provides access to its knowledge base and experienced industry leaders. KBKG determines which tax programs benefit clients and stay committed to handling each relationship with care and diligence. KBKG's ability to work seamlessly with its clients is the reason many tax professionals and businesses across the nation trust KBKG.
Questions about tax-saving strategies? Contact us today for a free benefit estimate.