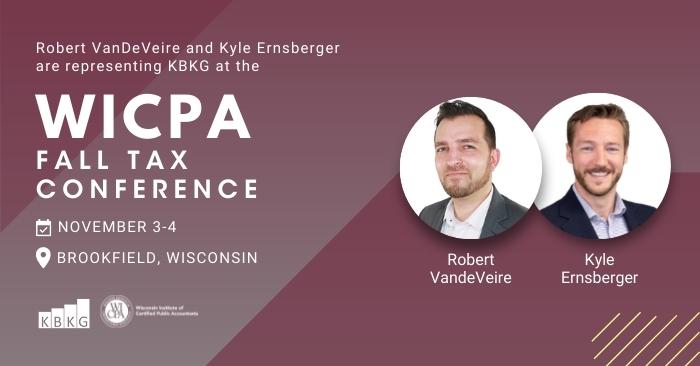 Our Director, Robert VanDeVeire and Regional Director, Kyle Ernsberger are exhibiting at the WICPA Fall Tax Conference. This conference is taking place from Thursday, November 3, 2022, to Friday, November 4, 2022, at the Brookfield Conference Center in Brookfield, Wisconsin.
About the WICPA Fall Tax Conference
The WICPA Fall Tax Conference comes with the top experts in tax and related fields providing detailed updates and tips to serve clients and their companies, the Tax Conference is the must-attend event to stay current on changing international, federal and Wisconsin tax laws and developments, as well as ethical issues, technology changes, financial planning strategies, and more. This two-day conference is for tax professionals with all levels of experience in public practice, industry, and government, as well as practicing attorneys, corporate counsel, and business and financial managers.
Attend this year's Tax Conference to hear from top experts about the latest updates and insights on pressing issues involving federal and Wisconsin tax updates, IRS updates, a Wisconsin Department of Revenue update, the SECURE Act regulations, hot tax practice procedures, and ethical issues, and more. CPAs in industry and public practice as well as practicing attorneys, corporate counsel, and business and financial managers will benefit greatly by attending.
About the KBKG Team
Established in 1999 with offices across the United States, KBKG provides turn-key tax solutions to CPAs and businesses. By focusing exclusively on value-added tax services that complement traditional tax and accounting teams, KBKG always delivers quantifiable benefits to clients. The firm provides access to its knowledge base and experienced industry leaders. KBKG determines which tax programs benefit clients and stay committed to handling each relationship with care and diligence. KBKG's ability to work seamlessly with its clients is the reason many tax professionals and businesses across the nation trust KBKG.
Questions about tax-saving strategies? Contact us today for a free benefit estimate.