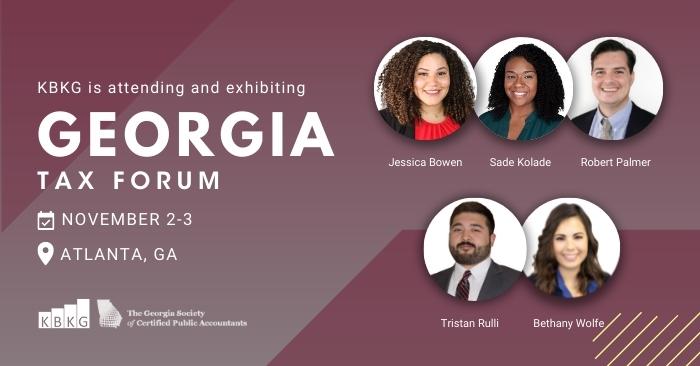 Our Senior Manager, Jessica Bowen, Account Manager, Sade Kolade, Robert Palmer, and Tristan Rulli are exhibiting at the Georgia Tax Forum 2022. The conference is taking place from Wednesday, November 2, 2022, to Thursday, November 3, 2022, at the GSCPA Learning Center in Atlanta, Georgia.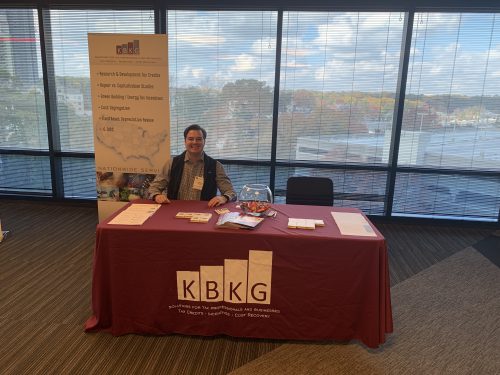 About the Georgia Tax Forum
The Georgia Tax Forum is Georgia's leading taxation event that brings you up-to-date on changing tax legislation and critical issues impacting you and your clients, including DOR updates, cryptocurrency, SALT and estate planning updates. Day one will provide an update and lessons learned in the past year. Day two takes a deeper dive into trending topics to prepare you for the coming year. Attendees are encouraged to Participate in guided discussions you need to survive the upcoming tax season and insight and experience from local and national speakers to help you determine the best route in advising your clients.
TOPICS
Day 1: Federal Individual Tax Update, Federal Business Tax Update, State and Local Tax Update, Bridging the Gap Between Planning and Implementation: How Estate and Gift Tax Attorneys Can Better Help CPAs
Day 2: Schedules K-2, K-3, and Other Tax Updates, COVID-19 Update, Tax Effects on Cryptocurrency Transactions, Sales Tax Hot Topics, A CPA's Guide to Avoiding Trouble, M&A Overview and Current Trends, Department of Revenue, Tax Talk with Art and Anson
About the KBKG Team
Established in 1999 with offices across the United States, KBKG provides turn-key tax solutions to CPAs and businesses. By focusing exclusively on value-added tax services that complement traditional tax and accounting teams, KBKG always delivers quantifiable benefits to clients. The firm provides access to its knowledge base and experienced industry leaders. KBKG determines which tax programs benefit clients and stay committed to handling each relationship with care and diligence. KBKG's ability to work seamlessly with its clients is the reason many tax professionals and businesses across the nation trust KBKG.
Questions about tax-saving strategies? Contact us today for a free benefit estimate.