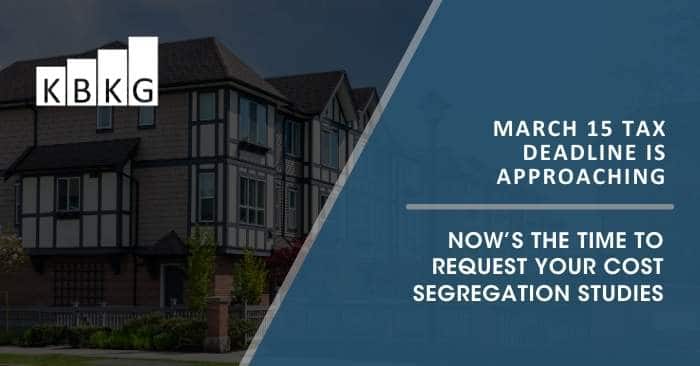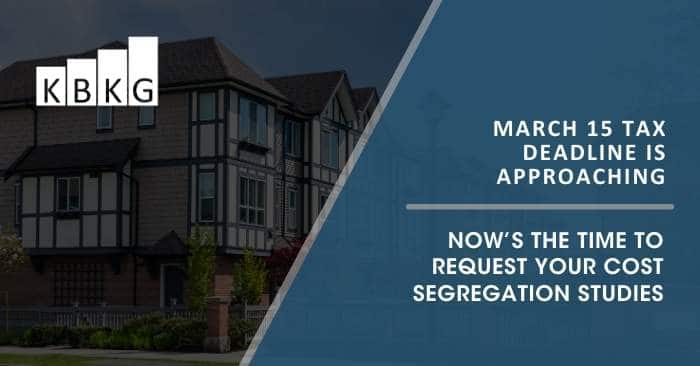 Are you or your clients interested in performing a cost segregation study before the upcoming March 15 tax deadline?
KBKG is committed to timely work. Since the months leading up to a tax deadline is our busiest time of year, we encourage you to start the process now to avoid any delays in filing your return.
How long will it take to complete the study?
While a typical Cost Segregation study can take up to 60 days to complete, this truly depends on how quickly we receive the information needed to get started.
How much can be saved?
A study is generally beneficial if the property owner is paying Federal income tax. Savings depend on many factors including purchase price, building use, and year acquired. An estimate of savings can instantly be obtained through our Cost Segregation Savings Calculator.
For a more accurate estimate, you can Request a Free Analysis and Proposal.
What is involved in a Cost Segregation Study?
Our process for conducting a detailed Cost Segregation includes a review of any available cost detail for the property, a review of available blueprints and appraisals, interviews with property management, and a physical inspection of the property. If none of this information is available, a study can still be performed by estimating component values on site.
Ready to get a head start on tax season? Help us, help you by notifying us as soon as possible if this is something you are interested in pursuing.