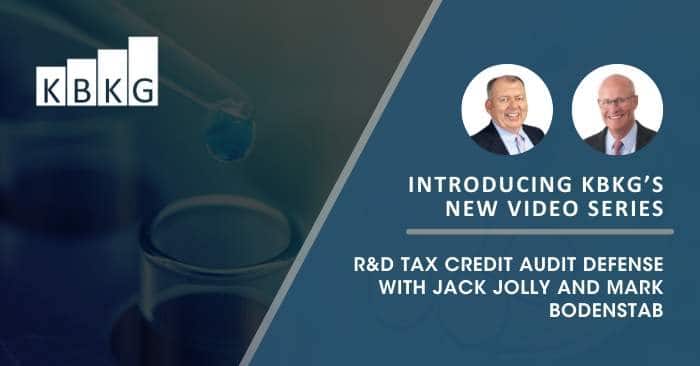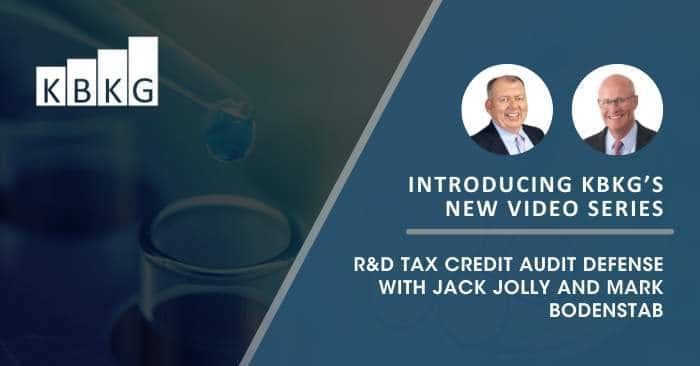 Many companies are hesitant to take advantage of the Research & Development (R&D) Tax Credit for fear of a possible IRS audit. In our first 2 minute video, former IRS engineering officials discuss how many companies can avoid IRS scrutiny by properly describing their research activities.
KBKG's IRS Audit Defense videos give a better understanding of how the audit process occurs. The video series features two of our former IRS professionals, Jack Jolly and Mark Bodenstab. Viewers can expect to learn what is involved in an IRS audit of the R&D Tax Credit, how to be prepared in the event of an audit, and many more hot topics.
First up in our new video series, you will hear from Jack Jolly. He talks about his experience with the IRS, and you will learn why words matter when it comes to documenting research studies.
Benefits of Having Former IRS Professionals on Staff
With a combined 34+ years of experience working for the IRS, Jack and Mark bring their technical expertise to KBKG. Their insights and experience further enhance the quality of the studies performed by KBKG. They know from personal experience the variety of quality the IRS sees with these studies. Together, Mark and Jack are an integral part of KBKG's Audit Support.
More about Jack Jolly
Jack Jolly is a Director of KBKG's Research and Development (R&D) Tax Credit Services. He plays a key role in reviewing KBKG's reporting practices by answering all IRS questions upfront, creating efficiencies, and ensuring the best outcomes for our clients.
For the last 20+ years, Jack worked with the IRS in the Large Business and International Division reviewing corporate tax incentives. The majority of his time at the IRS was dedicated to the examination of the research tax credit in various industries. He served as an engineer team manager, territory manager, and senior analyst.
For more about Jack Jolly, visit his bio page.
Audit Defense Practice
Working with a qualified firm with a team of experienced specialists can abate many issues that could arise during an audit. With decades of research credit audit experience, we fully understand IRS audit techniques and procedures. Our firm can guide you through the audit process in the least amount of time while sustaining the maximum credit possible.
» Learn more about our R&D audit defense service
Should you have questions or need guidance, our R&D tax credit team of former IRS experts and experienced technical leaders are here to help. Contact us today.