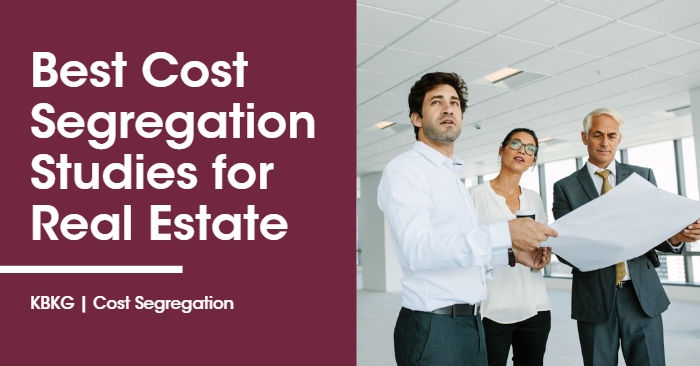 Best Cost Segregation Studies for Real Estate
Cost segregation is a tax planning tool that allows property owners who have purchased, constructed, or expanded any type of building to improve their cash flow and reduce their tax burden by deferring state and federal income taxes. When you purchase or construct a building, you are also purchasing all the components inside. A cost segregation study takes these components into account. If you are interested in a cost segregation real estate study, KBKG is a leading provider of some of the best and most thorough studies in the industry.
Why Should You Conduct a Cost Segregation Real Estate Study?
Many property owners do not know that a considerable number of their building's inside components fall into various tax categories that the owners can write off faster than the building itself. A thorough real estate cost segregation study can dissect the purchase or construction price of a property that would typically depreciate over a period of 27.5 or 39 years. The ultimate goal of a cost segregation study for real estate is to identify components and costs that will depreciate over five, seven, and 15 years. Comprehensive studies can also separate the various components of a building, so the building owner can claim a loss deduction after replacing the components.
What Do You Need To Perform a Study?
A tax expert can perform a cost segregation study for a variety of residential and commercial structures, including houses, mixed-use buildings, medical centers, factories, restaurants, warehouses, and a number of other types of structures. When performing a cost segregation analysis for real estate, KBKG will evaluate a variety of documents you provide, including current cost details regarding your building, blueprints, and physical inspection records. Even if you don't have any of this information available, KBKG can still perform a cost segregation analysis.
When Should You Conduct a Study?
You can hire us to perform a cost segregation study any time after the purchase, construction, or remodeling of a structure. Ideally, the best time to perform a study is the year that you construct,  purchase, or remodel your building. If you are a real estate investor, you may want to schedule a study before establishing the infrastructure of your building. We can provide a preliminary analysis to help you determine the right strategy and time at no cost.
How Do You Choose the Best Cost Segregation Provider?
When selecting the best cost segregation study, you should consider certain factors. You may think you should hire a CPA, but in reality, only a few CPAs have in-depth experience conducting studies. KBKG is one of the best cost segregation providers for the following reasons:
We offer full support if the IRS audits you after we conduct your cost segregation study. Our company has extensive experience interacting with the IRS and will take every step possible to defend your study.
KBKG consists of a team of talented and seasoned tax professionals.
Our company can complete your study in 45 to 60 days.
We strive to serve financial professionals with professionalism and courtesy. KBKG aims to be one of the best in the industry.
Are You Interested in Conducting a Cost Segregation Real Estate Study?
If you are interested in conducting a cost segregation real estate study, we can do the heavy lifting for you. Our experienced financial engineers and tax professionals can help you reduce your tax burden and increase the amount of revenue you generate. Contact us today to speak to a professional.