Delaware R&D Tax Credit Case Study
The Research and Development (R&D) tax credit is one of the most valuable credits leveraged by companies. The R&D credit yields billions of dollars in federal and state benefits to companies engaged in qualifying research. The R&D tax credit can provide a significant reduction to current and future tax liabilities and a source of cash.
Benefits
Up to 13.5 cents of R&D tax credit for every qualified dollar
Dollar-for-dollar reduction in your federal and state income tax liability
Credit carried forward up to 15 years
Qualifications
More companies in Delaware can now qualify for the R&D tax credit. Companies are able to qualify R&D activities beginning with the development of concepts and extending to the point where a product, process, formula, or other business component is ready to be commercially released. Looking into a potential R&D tax credit may be a great benefit if you are engaged in any research activities. In addition, look back studies can recognize unclaimed credits for the last 3 or 4 open tax years.
Case Study
A company in Dover, Delaware with fewer than 50 employees had never claimed the R&D Tax Credit before. This project involved a multi-year study covering the tax years 2019 – 2021. The Company qualified for the federal R&D Tax Credit of $271,832 and an additional $114,562 for the state R&D Tax Credit in Delaware.
FEDERAL

DELAWARE

Year

Total QREs

Credit

Total QREs

Credit

2021

$1,200,000

$127,166

$1,000,000

$52,986

2020

$850,000

$92,166

$700,000

$37,951

2019

 $500,000

$52,500

$450,000

$23,625

Total
$2,550,000
$271,832
$2,150,000
$114,562

Learn about how to qualify for Delaware's R&D tax credit state benefits.
Four-Part Test
Qualified research activities are defined by the four-part test outlined below
Research and Development Tax Insights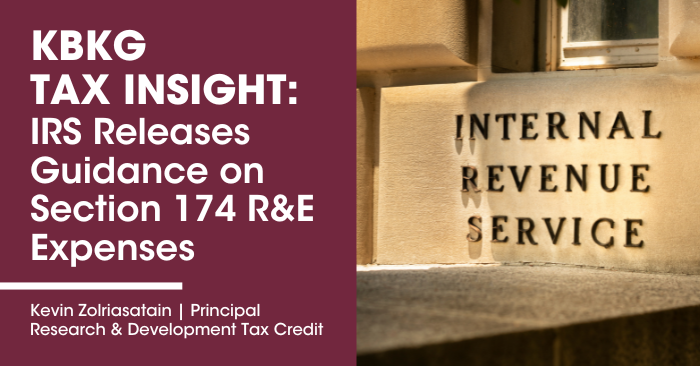 KBKG Tax Insight: IRS Releases Guidance on Section 174 R&E Expenses Monday, September 11, 2023  By Kevin Zolriasatain | Principal, Research & Development Tax Credits On Sept. 8, 2023, the Internal Revenue Service (IRS) unveiled Notice 2023-63. This significant and eagerly awaited update to tax regulations under Section 174 marks a pivotal moment in the realm … Read More
Have Questions? We're here to help.
Our team of experts are well-versed in their respective fields and are able to answer most any question.