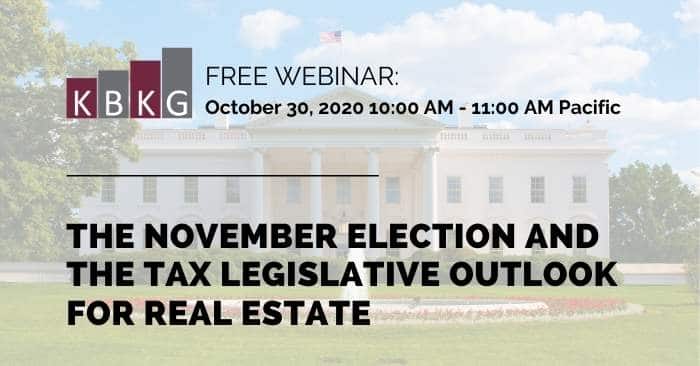 Several of our executive leadership team at KBKG currently serve as members of The Real Estate Roundtable. As we approach election day, we want voters to understand how the November election could shape future tax legislation and implications for real estate ownership and investment.
Last year, KBKG hosted two webinars with special guest speaker and Washington insider, Ryan McCormick, Senior Vice President & Counsel for Tax Policy at The Real Estate Roundtable to provide an update as to what to expect from Capitol Hill over the year. Tax issues impacting real estate were addressed along with possible timelines and vehicles for future tax legislation.
Due to the popularity of these webinars, we have invited Ryan back to discuss potential consequences of the upcoming election for tax policies affecting U.S. real estate.
Join us on Friday, October 30th at 10 AM PST, as we host a webinar to dicuss the major real estate tax proposals from President Trump and Joe Biden, which real estate tax issues will be front and center in the next Congress, the implications for local communities and the broader economy, how the real estate industry and The Real Estate Roundtable in particular are engaging policymakers on the key issues and more.
Join the Conversation
Our technical experts cover this information and more during our webinar.