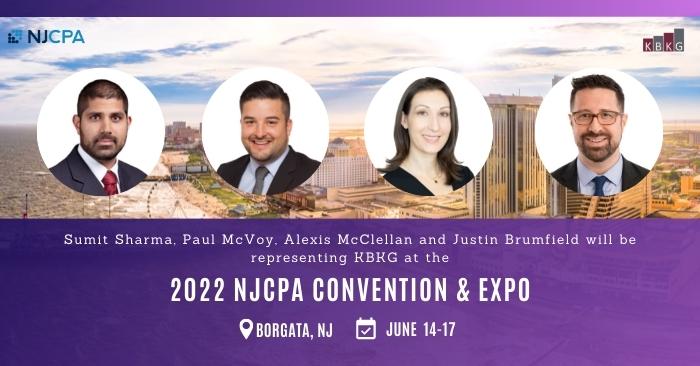 This year, Sumit Sharma, Paul McVoy, Alexis McClellan, and Justin Brumfield will be representing KBKG at the NJCPA Convention & Expo. This conference takes place from June 14th to June 17th at NJCPA Convention & Expo in Atlantic City.
About the NJCPA Convention & Expo
The NJCPA Convention & Expo knows that there are mega-changes occurring over the past few years making it clear that transformation is the only way forward. We need to make greater investments in technology. We need to exercise strong leadership. And we need to embrace cultural shifts within our organizations and teams. All the while, it's essential that we keep our focus on growing and thriving – now and in the future. Spend four days with us at New Jersey's premier event for CPAs.
Learn the issues shaping today's and tomorrow's CPAs, and transcend the complex business environment.
Topics covered will include: Accounting, financial reporting and regulatory developments, business profitability in the wake of a changing business landscape, stepping up business intelligence with data and predictive analytics. accounting innovation and best technologies. economic issues facing businesses and investors. leadership principals for a productive organizational culture, evolving tax changes and strategies.
About KBKG's New York Team
At KBKG, we are passionate about helping business owners and accounting professionals across the New York region. Our value-added tax services include Cost Segregation, Research & Development Credits, Green Building Tax Incentives (179D & 45L), Transfer Pricing, IC-DISC, and more.
Questions about tax-saving strategies? Contact us today for a free benefit estimate. We're happy to help.