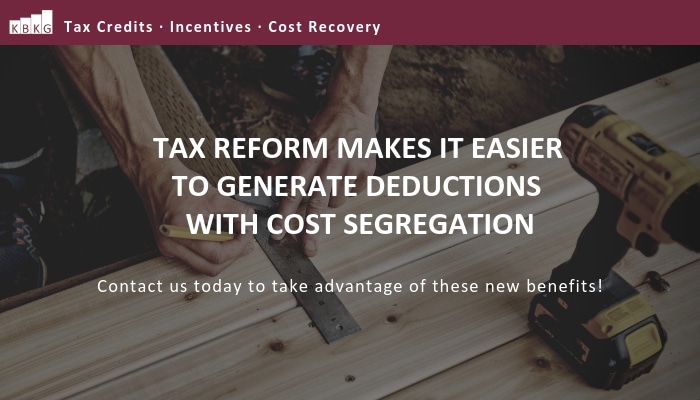 In 2018, the tax reform changes made cost segregation studies more valuable than before. Under the new law, any building components with a tax recovery period of 20 years or less, are eligible for 100% Bonus Depreciation. Historically, bonus depreciation only applied to newly constructed property, but now it's available for any acquired property. These components can be easily identified with the help of a Cost Segregation Study.
The bonus depreciation rate was increased to 100 percent through 2022, after which it will phase down by 20 percent each year. It stands to reason that there is no better time to act than now, to ensure a maximum benefit for the remaining taxable years before the decrease. 100% bonus depreciation is available for used property acquired after September 27, 2017. Additionally, to be eligible to claim the additional first-year depreciation deduction for used property – it must meet the following requirements to be qualified property:
The taxpayer or its predecessor didn't use the property at any time before acquiring it.
The taxpayer didn't acquire the property from a related party.
The taxpayer didn't acquire the property from a component member of a controlled group of corporations.
The taxpayer's basis of the used property is not figured in whole or in part by reference to the adjusted basis of the property in the hands of the seller or transferor.
The taxpayer's basis of the used property is not figured under the provision for deciding basis of property acquired from a decedent.
Also, the cost of the used property eligible for bonus depreciation doesn't include the basis of property determined by reference to the basis of other property held at any time by the taxpayer (for example, in a like-kind exchange or involuntary conversion).
These requirements, among other criteria, can be examined during a proper cost segregation assessment.
While there are other considerations to make when applying for bonus depreciation, an experienced cost segregation engineer can help you or your CPA navigate the complexities for an optimal outcome.
Author: Harry Sahi
Contact us today to take advantage of these new benefits.