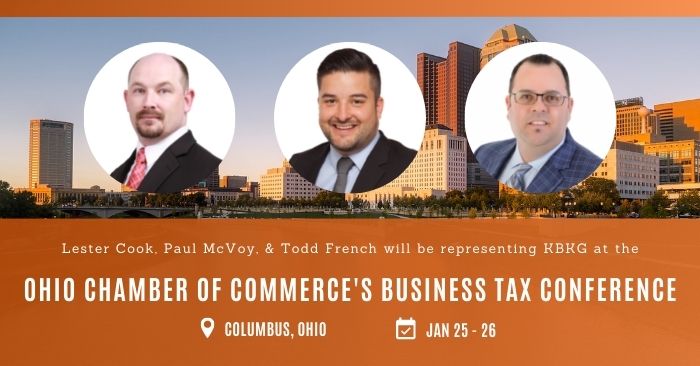 KBKG spoke at the Ohio Chamber of Commerce 2022 Business Tax Conference on Tuesday, January 25th and Wednesday, January 26th. Lester Cook presented on Cost Segregation, Paul McVoy spoke on R&D Tax Credits, and Todd French represented the firm at the exhibit booth. See below for session details.
Tuesday, January 25th | 1:45PM EST
Cost Segregation and the Impacts of Tax Reform presented by Lester Cook
Best practices on how taxpayers benefit from cost segregation, particularly how it has changed over the years. Tax issues that should be considered in conjunction with cost segregation studies. Impact of cost segregation on estate planning. Tax reform on cost segregation. Cost segregation opportunities related to the tangible property regulations, Final Bonus Regulations of 2019, and disposition regulations.
Wednesday, January 26th | 11AM – 12:30PM EST
Research and Development Tax Credit Fundamentals presented by Paul McVoy
Insights into the R&D tax credit. How to identify qualifying projects. Differences among the various calculation methods. Project implementation and issues to consider.
Pictures from the conference:

At KBKG, we are passionate about helping business owners and accounting professionals across the Midwestern region. Our value-added tax services include Cost Segregation, Research & Development Tax Credits, Employee Retention Tax Credits, Transfer Pricing, Green Building Tax Incentives (45L and 179D), and more. Chicago-based KBKG professionals work with engineers and tax experts from our Headquarters to perform thousands of tax projects resulting in hundreds of millions of dollars in benefits for our clients.