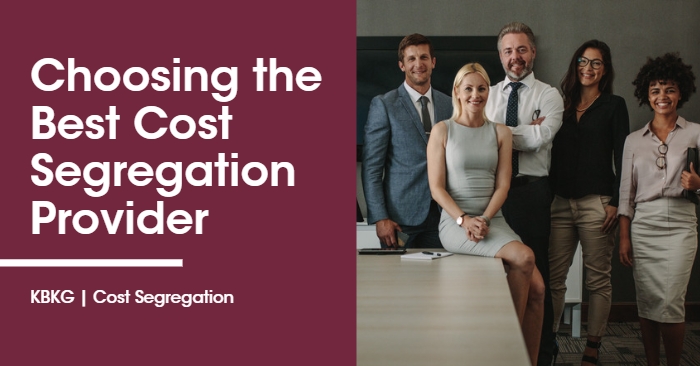 Choosing the Best Cost Segregation Provider
If you own an investment property, you know that depreciation of the structure can take 10-40 years or more, which means it can be quite a long time before you see the tax benefits from it. What you might not know is that you can receive deductions for non-structural components of the property, such as light fixtures, electrical outlets, and flooring. Achieving these deductions requires performing a cost segregation real estate study that determines what is depreciating more quickly than the structure and by how much. It's important to find the right trained professionals to perform these studies.
Knowledge of the Components of Cost Segregation in Real Estate
Anyone can say they understand the difference between a structure and an unattached component, but the right analyzer will have more in-depth knowledge about four separate areas:
Building –Anything considered part of the building, such as its roof, should receive a separate analysis (although on the same depreciation schedule). This way, if one part of the building becomes worthless before the rest, you can write it off right away.
Personal Property –Property typically depreciates in 5-7 years and should be analyzed separately from the building and land, especially if the items are high in value. Common examples include carpeting, window treatments, and furniture.
Land Improvements –Land improvements typically depreciate and can be written off within about 15 years. Improvements include fences, sidewalks, docks, and anything else you add to increase the value of the property.
Land –Anything that doesn't fall under the first three categories falls under land. While the value itself is typically low, proper documentation helps to protect you from IRS issues.
The right analysis professional will understand these four categories and what falls into each of them in great detail.
Real Estate Cost Segregation Based on Engineering
The methodology is important. An inexpert guesstimate is easy to make, but to get the value you deserve from your cost segregation study real estate, you need someone who is adept in engineering. Only engineers have the knowledge to understand the value of items such as electrical conduits.
It is also important that your professional can create working drawings if none are already available. Detailed drawings not only create better results for you but are also the methodology preferred by the IRS.
The Importance of High-Quality Study Results
The professional who performs your cost segregation analysis real estate should provide you with high-quality reports after the analysis tour. The materials you receive should contain a report that is about 25-40 pages long. It should include an itemized list of everything in your building, an assigned value total, and information about accelerated depreciation life.
The amount of detail should be enough that you can use it in the future for full write-offs. Keep in mind that the professional should provide you with IRS-accepted engineering reports and cost estimates as well.
Work With a Cost Segregation Real Estate Professional 
You deserve a cost segregation real estate study that comes from an experienced and knowledgeable professional. Contact KBKG to learn more about our services and how we can help you.